Now that the school year is about to begin, it's a great time to catch up on the most relevant events for entrepreneurs coming up for the remainder of the year. All these events aim to spread knowledge, catch on the latest developments in the industry, do some networking, and explore new ways to innovate and grow. These are some of the most noteworthy.
Sustainable Development Impact Summit 2019 (September 23-24)
The World Economic Forum's annual meeting engages the most relevant and influential leaders across business, government, civil society, NGOs and academia to collaborate on and address the world's most pressing problems and find joint solutions. The topics that will be covered in this edition include: Transforming Markets to place human and environmental health at the core of market systems and value chains, Accelerating Climate Action, the development of sustainable finance and bolstering local entrepreneurship and innovation to make growth more equitable. The event will be held on September 23 and 24 at the World Economic Forum's New York headquarters.
To register and find out more, please click here.
South Summit 2019 (October 2-4)
The event's tagline says it all: "The platform where connections in innovation happen." And indeed it does. South Summit is a great global gathering, organized by Spain Startup in collaboration with IE Business School, where businesses, investors and corporations connect and collaborate to create business opportunities and disruptive trends. Since it first launched in 2012, the summit has steadily grown into a multi-city event, with editions in Madrid, Mexico City, Bogota and Malaga.
The summit's agenda includes a series of conferences by top industry experts and players and a startup competition where founders of emerging enterprises compete to be named the best startup of the year, a tagline that's proven its appeal with business angels and venture capital. South Summit will take place in Madrid from October 2 and 4. Last year, the event drew in over 16,000 attendees, 6,800 businesses, 4,300 entrepreneurs and 750 investors.
To register and find out more, please click here.
Social World Forum (October 23-25)
Social Enterprise World Forum (SEWF) is the leading forum for international exchange and collaboration in social entrepreneurship and social investment.  It has become the social enterprise sector's main platform and has been conceived for learning, sharing of good practices, ideas and creating partnerships.  The event's agenda includes a broad range of presentations on the latest social entrepreneurship topics. Since its inaugural edition in Edinburgh in 2008, the event has been hosted in different cities across the world. This year's edition will go down as a pivotal point in the Forum's history, as it will be the first that the capital city of an emerging country - Addis Ababa (Ethiopia) – will be hosting the event
To register and for more information, please click here.
EVPA Annual Conference (November 5-7)
Organized in partnership with ImpactFest, the conference is one of the year's main events specializing in impact investment. The event will be hosted in The Hague and will offer attendees a great opportunity to discover new global trends and deepen their knowledge to support social change. With an audience that includes by over 1000 world-class practitioners and experts in the field from 50+ countries, the conference is also a unique networking opportunity,  The event also doubles as a shop window where participants can showcase their projects to a specialized audience.
To register and for more information, please click here.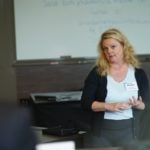 BBVA Momentum Pitch Day is a unique opportunity for participants to present their companies' growth plans.
BBVA Momentum 'Pitch Day'  
The 2019 edition of BBVA Momentum, BBVA's social entrepreneurship support program concludes in November with Pitch Day, a one day event to be held in each one of this year's host countries: Colombia, the United States, Mexico and Turkey.
The events offer a unique opportunity to participants to explain their business growth plans in front of an audience consisting of relevant players in the entrepreneur ecosystem and potential investors. These inspiring sessions provide an opportunity not only to discover the most promising BBVA Momentum entries, but also to connect with key industry leaders, learn about different areas of social entrepreneurship through presentations and panel discussions and create synergies.
BBVA will announce the date and location of each local BBVA Momentum Pitch Day event shortly through BBVA.com. BBVA Momentum is a key event for anyone interested in the world of social entrepreneurship.