BBVA Momentum, the BBVA program that supports social entrepreneurship, is entering its second half. September kicks-off with new training sessions for the selected social enterprises from participating countries: Colombia, the United States, Mexico, and Turkey. In a short couple of months, the most ambitious round of BBVA Momentum to date – with a record-breaking 169 participating social enterprises – will draw to a close.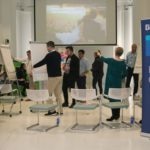 "Taking part in BBVA Momentum training is hugely important, because being successful in the world of business and entrepreneurship today requires staying up to speed and on top of advances, which is only possible by attending a program like this one". These are the words of Alexandra Calderon, a Colombian entrepreneur with Dokuma. She expresses the general sentiment of the program's participants who give high praise to the program's classes, its networking opportunities, and the work with mentors and specialists, among other benefits.
The training sessions, which began in June, will run until November, although the exact schedule for each local cycle can vary. The program consists of a 60-hour course of training designed by the Headspring Executive Development initiative, in alliance with the Instituto de Empresa business school and the Financial Times. By combining face-to-face classes with virtual learning, this program has helped BBVA Momentum maximize its impact and broaden its reach to even more entrepreneurs. The training program lasts a total of 18 weeks.
New Dynamics
The program is constantly innovating as it seeks various ways to connect entrepreneurs and foster collaboration between them. "We have two types of forum discussions. One is a forum where a situation, question, or something related to the program is raised, and the participants have to give their opinions contributing to a constructive discussion", Angel Vilchez, Program Manager at Headspring Executive Development explains in an interview for the BBVA podcast, 'Blink.' "This year we've introduced another format called 'Dynamic 360'. It aims to encourage participation through feedback and using the data in participants' growth plans".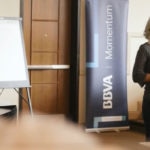 Time is racing: participating entrepreneurs need to put the finishing touches on their growth plans so they can scale up their businesses and expand their impact. "The program gives them a clear idea about where their business currently is, where they want it to go, and how to get it there", explains Vilchez. During this phase of the program, the participation of BBVA mentors and specialists is key. Mentors provide strategic guidance on how to proceed with the business and in the preparation of the business plan. Specialists are available to answer questions or consult with the entrepreneurs on specific issues that arise within their specific domains of expertise. "This is one of the aspects that the entrepreneurs value most, because they are given the opportunity to learn from BBVA's outstanding professionals and count on their support as they complete their business growth plans", comments Maria Erquiaga, Global Head for BBVA Momentum. "It reassures them that their efforts will be met with success".
Weeks of training and effort culminate in "pitch day", a local-level event where the entrepreneurs have the chance to take to the stage to present their growth plan to a specialized, local audience. Leading members of each country's social entrepreneurial community attend the event. Consequently, this inspiring day represents a unique opportunity for networking and discovering synergies.
Pitch Day will signal the end of the most ambitious round of BBVA Momentum to date: this year's program broke previous participation records having selected 169 social businesses to take part. The participants are taking advantage of these final weeks, making the most of the tools made available by BBVA Momentum in order to lay the foundations for the growth of their social enterprises. Their success will be the measure of the program's success.