José Manuel González-Páramo: "Integrity and ethical conduct should always be present in our professional career"
José Manuel González-Páramo, executive director of BBVA, has taken part in the Business and Public Assets conference organized by the Business and Humanism Institute of the University of Navarre at BBVA's headquarters in Madrid. In his speech, González-Páramo has focused on ethics as a fundamental pillar of banking.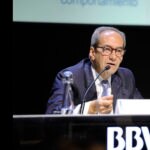 Financial institutions should operate in accordance with ethical principles if they are to survive in a changing environment. This was the main focus of the speech by the BBVA executive director, who from a humanist perspective of the business, stressed that "it is essential for a financial institution to place people at the core of its purpose". To do so, the institutions must solve the reputation problems from within: "Banks have to assume their leadership through self-regulation in order to restore trust and credibility", he said. 
González-Páramo reminded the audience of BBVA's new purpose, which is inspiring the way of doing banking in the organization: "We work to bring the age of opportunities to everyone". Along this line, he said that the way to do so is to offer customers the best banking solutions, help them make the right financial decisions and have a positive impact on their lives. 
The BBVA executive director mentioned the Responsible Business Plan that BBVA launched in 2012 and which is based on the principles of integrity, transparency and prudence. This global plan has three strategic priorities. On the one hand, Transparent, Clear and Responsible (TCR) communication, whose aim is to help customers make informed decisions and foster a more balanced bank-customer relationship. On the other, financial literacy to help people better manage their debts and save effectively. And lastly, high social impact products, with the commitment to financial inclusion and leveraging new technologies and the boost to socially responsible investment.
"This model should be managed by the first line of management in the organizations", claims José Manuel González-Páramo. In the case of BBVA, responsible banking is supervised by the Board of Directors and, starting this year, it will be supervised by the Board's Executive Committee. 
At the end of his speech, BBVA's executive director reminded the audience of the keys for restoring trust in the banking sector: "Mutual trust, transparency, clear communication of our commitments, coordination and cooperation". Before taking his leave, he reminded banking professionals that "integrity and ethical conduct should always be present in our professional career and be an essential component of our professional qualification".