The city of Madrid has a new architectural landmark, located in the Las Tablas District, north of the capital. La Vela, an elliptic high-rise as tall as the Statue of Liberty in New York, has reached its maximum height (93 m). The works to fit out the glazing on both sides of the building will start soon.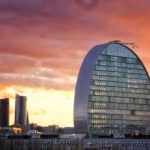 35 radiuses of different dimensions give shape to La Vela's structure, which will vertebrate the 114,000+ m2 complex around the central plaza on which it stands. By the end of the first-half of 2015, 6,000 employees will be working at BBVA City, a space thought for people and for new ways of working.
2,000 employees are already working in Phase 1, which was completed in June 2013. BBVA's corporate values – globalism, innovation, sustainability, simplicity, and transparency - are reflected in each one of the elements that integrate its new headquarters. Workspaces become open, facilitating teamwork and employee interaction, avoiding closed spaces to foster communication. Virtually 100% of the office space enjoys views of either the neighboring areas or the inner patios.
New ways of working in a complex designed for people
BBVA has always seen the construction project of its new headquarters started as an opportunity to drive a change in the ways of working in consonance with the Group's corporate culture. The result is a philosophy based on the values of BBVA's culture: collaboration, simplicity, transparency and cross-functionality. To this regard, BBVA City is not just an office complex, but a space created to put this new paradigm into practice: A complex thought for people, where technology will become the great catalyst of new ways of working.
BBVA City, designed by Swiss studio Herzog & de Meurion will also boast a broad range of services, devised to make life easier. A new space will offer dry cleaning and shoe and clothing repair services. These services will be completed with an offering focusing on health, sport and family support. The new headquarters will also encompass a sports center, a medical center providing physical therapy services and a nursery. These facilities will be at full disposal of our employees and their families.
BBVA City, sustainable
The new work environment will be equipped with elements that underpin the group's sustainability vocation, such as LED lighting (the largest installation in Europe), 49,000 m2 of façade glazing and 2,800 louvers oriented in accordance with insulation and thermal efficiency criteria, which, together with the vegetal canopies that will grow on the terraces, will help curb energy consumption. Also, the new headquarters will span over 31,000 m2 of green areas that will help lowering temperature during the summer months, avoiding the heat island effect.
BBVA City in Madrid has already earned the ISO 14001 environmental certification, which attests to its commitment to sustainability. Also, BBVA is in the process of obtaining the LEED Gold certificate for environmentally-friendly constructions, the strictest sustainable construction standard.
Recycled materials such as steel and aggregates are being widely used in the construction and most of the wood being used is certified by the FSC (Forest Stewardship Council), guaranteeing that it comes from forests managed in a responsible and sustainable manner.
Since the works first started, BBVA City has stayed busy online, launching its blog fotográfico, a blog that tracks construction progress and status, and its @Ciudad_BBVA Instagram profile. You can also check out the time lapse of La Vela's construction at our Youtube channel.