Many of the Momentum companies have focused on making life easier for others through technological solutions. Their ideas are overcoming obstacles and giving new meaning to the lives of thousands of people.
Long gone are the days when we thought technology was something cold and inaccessible that only a few privileged people could understand. Today it's so much a part of our lives that we often wonder how we could ever have lived without it. This is even more so in the case of people with disabilities.
Technology has come into their lives like a breath of fresh air, and is opening the doors to a much more accessible world, where mobility and access to information are no longer challenges but have become routine. This is a market niche for companies that is being occupied by a large group of Momentum companies, not only making the lives of these people easier, but also bringing them experiences and emotions that would otherwise be beyond their reach.
Technology for communication
This is the case of the Basque company Irisbond, which works to develop and market a system for controlling computers with your eyes. In other words, it's producing a software similar to the one that allows the famous physicist Stephen Hawking to communicate, but within reach of everyone. The users of Irisbond see how overnight they move from living isolated and voiceless lives to being able to speak, write, browse the Internet and even to work, simply by moving their eyes in front of the computer screen. This company's work has earned accolades and awards for its creators, although they are driven by another type of motivation. "This is a system that gives people dignity and the ability to take control of their own lives. Our commitment is to work with associations and governments to bring technology to people", says one of its founders, Eduardo Jáuregui.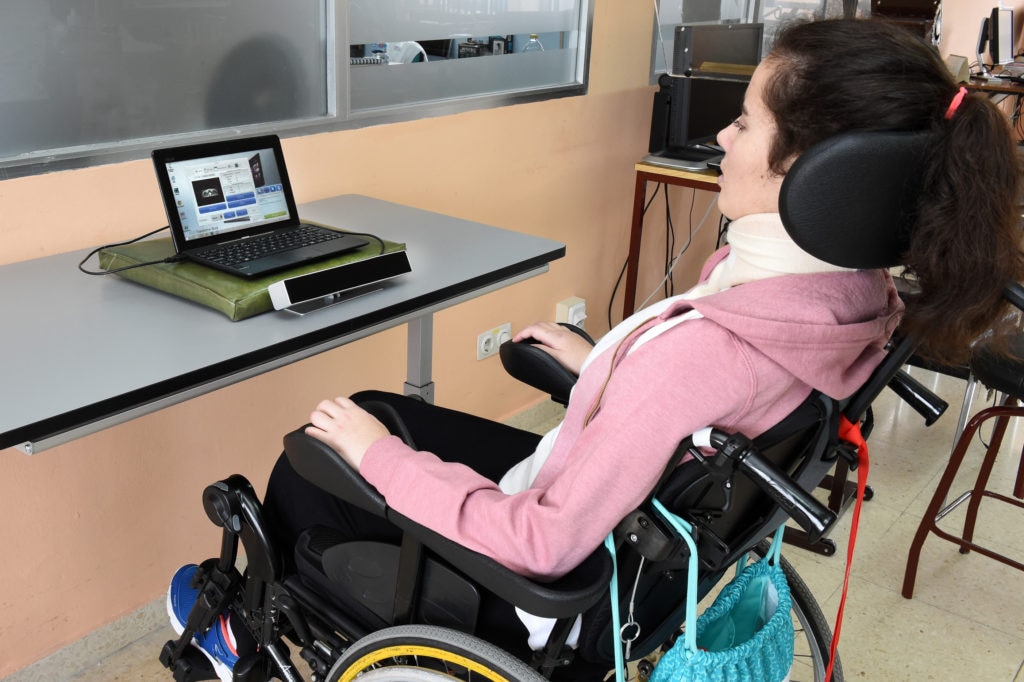 Make it easy
Eliminating barriers is also the mission of the Navarre-based company, Job Accommodation, and its creators Ion Esandi and Patxi Fabo. These young engineers joined Momentum with a clear goal: user-centric design. Their activity focuses on advising companies on how to make their products accessible to all kinds of people, and they also create their own products. Their motto? "We make things easy to understand, easy to use". Technology allows them to work on innovative solutions, but their ideas come from their more human side. According to Patxi Fabo: "We live in an era of partnerships, and small companies like ours who don't have much financial muscles are forced to collaborate. This can become an opportunity for generating value, because it makes you throw open the windows and let in fresh air".
Another barrier being broken down by technology is equal access to the world of leisure. Something so routine as going to see a show can be a major undertaking for people with sensory impairments. Aptent, a Momentum company specializing in accessibility to communication, has hit on the solution. The mobile-adaptable software created by its founders, Javier Jiménez and Diego Carrero, enables theater-goers to see subtitled librettos and also provides an audio description of the work. Thanks to their work, both people with disabilities, the elderly, and even non-Spanish-speaking tourists can fully enjoy accessible shows where Aptent is present.
Freedom of movement
Another challenge for the disabled –that of moving around a city– is one of the focuses of activity of the Catalonia-based technology company, Mass Factory. Jordi Roig de Zárate –sightless himself– needed to move around the city with greater precision and safety, and is now the driving force behind this accessible browsing service for mobile devices. The app this company has launched on the market, App&Town, calculates the fastest route to a particular point, provides information on public transport schedules, shows accessible itineraries… But this technology is not only for the disabled: "The app is designed and developed to be used by everyone", explains Jordi Roig.
The Basque company Inithealth also works in the area of applications. An everyday event was what set this company on its way: "Inithealth arose out of the personal experience of a company employee who, due to his illness, had to go to several medical centers clutching the typical blue plastic folder we all have in our homes, containing his medical reports. He thought a solution had to be found", says Juan Carlos Santamaría, Development Manager at Inithealth. Thanks to this circumstance, the company has created an application to allow people to manage their health and access their medical records, control their diet or set themselves physical challenges with just one click.
Technology is also an ally for helping older people to stave off the dreaded scourge of cognitive deterioration. At Cognitiva Unidad de Memoria they use their computer program to help users remain active and reinforce language, understanding and concentration, among other areas. Its director Carmen Sam Carrión has no doubt about how their work impacts the lives of others: "The people we help are able to improve their quality of life, and we also support their direct carers so they can voice their feelings and find some respite. In addition, we work to promote prevention and raise awareness among the public".
There are many examples of Momentum companies that use technology with a social impact: Sorbcontrol, Cocemfe Toledo, Batec Mobility and more. All of them are demonstrating that technological solutions combined with social awareness can bring new opportunities for people who need them, and above all, can improve people's lives.