BBVA | NEWS
The finance sector plays a crucial role in improving sustainability and needs to strengthen its responsibility to ensure a sustainable future. With this in mind, the international community decided to take a stand against climate change.
The digital transformation is altering the Spanish economy as demonstrated by varying levels of 'routinization' in numerous fields and the growing relationship between average salaries and hardware and software use in different occupations.
Microfinance changes people's lives and its positive impact can be felt for generations.
Not long ago, in Colombia, nearly half the population lived in poverty. In rural areas, the overwhelming majority.
5:22Video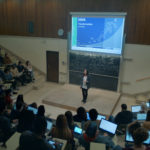 Watch Video
They say that the market doesn't tolerate ambiguity, which is the result of a lack of certainty, among other things. Rumors are a natural offshoot of the undefined, the very terrain of conspiracies and hoaxes.
The new notes, featuring security components that make them harder to counterfeit, are the highest-value denominations after the phase out of the €500 note.
Devices with combined cloud technology and neural networks integrated into their hardware – to reduce potential stability, privacy, and latency issues – are now a reality.