Efficient energy use: one small step for man, one giant leap for mankind
World economic growth is causing energy consumption levels to skyrocket. According to forecasts, energy needs will expand by 30 percent between today and 2040. This new scenario calls for practices aimed at promoting the efficient use of energy. But, is society really aware of the importance of curbing energy consumption?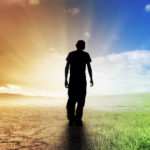 Using energy in more efficient ways –and therefore reducing energy intensity— is absolutely essential to protect the environment against the harmful consequences of carbon emissions. An increase of atmospheric levels of CO2 and other greenhouse gases has the potential to initiate unprecedented changes in climate systems.
According to experts, failure to meet the goal to limit global average temperature rise to 2 degree Celsius could drive earth dangerously close to a tipping point after which climate change could start threatening our current way of living. To understand how important this 2 degree mark is, all we have to do is take a look at four figures: under this limit, exposure to heatwaves is 89 percent lower, to floods 76 percent lower, to crop output decline 51 percent lower and to water stress 26 percent lower.
That is why, during the 2009 United Nations Climate Change Conference, held in Copenhagen, the International Energy Agency issued a systematic and concrete proposal entitled "Scenario 450": a plan to reduce energy-related CO2 emissions to 450 parts per million by 2030, in order to limit global warming to an average temperature of 2 degrees Celsius. However, according to recent reports, joint efforts should aim at limiting temperature increase to 1.5ºC. A growing number of scientists are calling for actions to restore the atmosphere to its pre-industrial levels.
All these reports and analyses require significant changes in energy consumptions habits of global society. More and more people are becoming aware of the consequences brought on by our current habits and are willing to change them.