Last Sunday, June 17, the BBVA Communication team and their families took part in "1m2 por la naturaleza" initiative, the great collaborative garbage collection in Spanish ecosystems.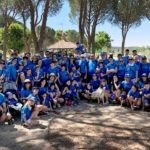 Leaving a better world for future generations is a wish that anyone would share. The BBVA Communication team has decided to take this further by turning good will into action. Last Sunday they traveled to Aldea del Fresno to clean the Alberche river beach, a traditional enclave to enjoy the weekends in the Community of Madrid.
Aware of the importance of working together to take care of the environment, team members and their families joined the campaign "1m2 por la naturaleza" to expose the consequences of litteering, which is the term the organizers of the day use to refer to the waste accumulated in nature. More than ten thousand people throughout Spain joined in.
BBVA, committed to its values
Lidia del Pozo, Director of BBVA's Community Investment Programs, pointed out that: "with this activity we have contributed to maintaining a clean natural environment. It has also been a unique opportunity to teach our children the importance of taking care of nature".
In Lidia's opinion, team volunteering is an expression of the canon "we are one team", one of the values ​​that BBVA promotes among its employees: "An idea of ​​this kind, in which webring workers together with their families and friends to clean up nearby environments, is away to enhance team spirit and a sense of belonging".
BBVA has a corporate volunteer program in all the countries where it operates. Last year, more than eight thousand employees of the Group participated in different actions promoted by the bank: from training activities to promoting financial inclusion, to reforestation campaigns, through all kinds of initiatives aimed at improving the lives of communities wherethe bank operates.