Onur Genç: "Banks play an important role facing the sustainability challenge"
BBVA CEO Onur Genç stated that: "Today, more than ever, banks play an important role in addressing the sustainability challenge." In his opinion, "Only banks can play a central role in  distributing the resources, which is a key part of the climate change challenge." The executive made these remarks at the 15th IESE Banking Industry.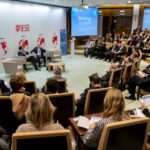 Onur Genç joined the sustainability debate being held this week in Madrid - the city hosting the 25th Climate Change Conference. In his opinion, banks have the capacity to mobilize and channel financial resources for a more sustainable and inclusive society, supporting companies and other economic actors in their investment and production decisions with environmental and social sustainability criteria.
BBVA's CEO recalled that the bank aims to have an alternative sustainable solution for all of its products in Spain. A goal BBVA hopes to reach in 2020. "We have an important challenge before us. A challenge that is growing at a faster speed than people think, but which is profitable and sustainable for banks," he said.
The global framework of the Principles for Responsible Banking will be the compass that guides banks in this direction. First, to align their business strategies with the United Nations Sustainable Development Goals (SDGs) and the Paris Agreement. Second, to manage the impact of their activities on the climate and set relevant targets in this respect. And third, to help clients in the transition to sustainability.
"At BBVA, we take these challenges very seriously," BBVA's CEO emphasized during his presentation. The bank was a pioneer in its commitment to sustainability as a catalyst for change in the society it serves, and this commitment will continue in the future, Onur Genç affirmed. He recalled BBVA's Pledge 2025, which lays out its climate change and sustainable development strategy, and is based on three pillars.
The first one is to finance this shift towards a more sustainable economy. In fact, in the first 18 months of the plan, "BBVA has already mobilized $21.8 billion euros in sustainable finance." The second is to manage environmental and social risks related to the bank's activity in order to minimize its possible negative impacts - both direct and indirect. In this regard, BBVA was the first global bank to disclose its exposure to fossil fuels, and is working to progressively align its activity with the Paris Agreement under the Katowice Commitment. The third pillar of Pledge 2025 is to engage all stakeholders in promoting the sustainable development by the financial industry.
The role of data in the economy is growing exponentially
BBVA's CEO explained that banks have the opportunity to help their customers make better financial decisions, thus improving their financial health. This is possible thanks to the use of data. "The way we use data to benefit customers allows us to help them." This creates a new environment that is an opportunity, but also a challenge, he explained.
The way we use data to benefit customers allows us to help them
"BBVA started its digital transformation project much earlier than other banks," he said. "We have invested a lot in this and are now seeing the benefits of this transformation." In fact, BBVA customers increasingly choose to do more business with the bank on digital channels. Onur Genç took the opportunity to announce that BBVA has met its target of surpassing 50 percent for mobile customers in the month of October.
Finally, BBVA's CEO underscored the importance of people as one of banks' greatest assets. People constitute "a competitive advantage" for banks over other competitors. In his opinion, the role of human interactions is critical in order to build a relationship with customers based on trust.