A platform that brings the business community together with day laborers wins first prize for social entrepreneurship in the Ruta BBVA 2016
The Social Entrepreneurship Program of the Ruta BBVA 2016 already has a winning project –Campon-line by Jorge Ochoa, a website that puts agricultural businesses in contact with employees, and offers legal and administrative advice.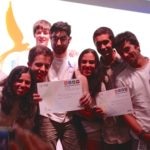 What distinguishes social entrepreneurs is that they detect a need in their environment and then set out to find a solution that has a positive impact on the community around them. This perfectly describes Jorge, a participant from Extremadura, who created a social entrepreneurship project that has won the most recent edition of the Ruta BBVA.
A need for contact
Jorge Ochoa realized that the agricultural business sector and day laborers in Extremadura were having trouble finding a space where they could help each other; the former by providing employment and the latter by offering their services as laborers. In a community where agriculture and farming are two key resources for the economy, a solution needed to be found urgently. "Around 30,000 people work in this sector, many of them in agricultural labor such as pruning and harvesting. That is, in temporary work", explained Jorge in the pitch for his project. There are very few ways to learn about possible jobs, and "contacts tend to take place in the town square or by word-of-mouth".
This young man's enthusiasm for taking part in the Ruta BBVA encouraged him to submit a technology project that could resolve this problem simply and easily. His idea was selected by the Social Entrepreneurship Program to be developed during the Ruta BBVA with a team of six more participants in the program. The result of his work is called Campon-line –a "Infojobs del campo"(agricultural job information) that puts agricultural businesses and day laborers in contact on a common platform where they can communicate. The farmers can post their job offers, and the farm workers can apply for them according to their availability, proximity and conditions. This way, as Jorge explains: "Agricultural businesses can easily find labor and farmworkers have a permanent and reliable place where they can look for work".
Campon-line was up against another five proposals focusing on the collaborative economy and covering areas such as animal care, job seeking and the expenses incurred by the purchase of school equipment. The participants' projects also focused on healthcare, education and environmental sustainability.