Project Blue Elf goes virtual as BBVA USA celebrates the holidays online
After nearly a decade of bringing holiday joy to families across the country, the BBVA Foundation's Project Blue Elf campaign continues its focus on financial education in a uniquely 2020 way.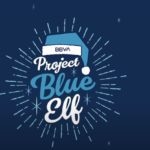 "This has been a challenging year for all of us, so while the Project Blue Elf events had to look a little different than years past, we knew we couldn't cancel," said BBVA Foundation President Reymundo Ocañas. "Families across the country have been working hard to improve their financial knowledge and take advantage of opportunities. These virtual holiday events gave us a chance to highlight their accomplishments and reward their hard work and dedication, while keeping everyone safe."
For the project's 2020 campaign, the bank embraced a digital approach, hosting virtual workshops in communities across the country to offer valuable advice and information as part of its financial education program. In addition, each holiday workshop included a sweepstakes drawing, awarding one participant a gift card valued at up to $250.
Over the event's eight-year history, Project Blue Elf has served nearly 23,000 children, families and individuals, dedicating more than 10,000 employee volunteer hours. This year's events saw 270 volunteers from across the BBVA USA organization donate more than 650 volunteer hours.
"This year's Project Blue Elf events were a completely different experience for our volunteers," said Ocañas. "I'm incredibly proud of their willingness to embrace this new format and work hard to bring some holiday cheer in a unique and different way."
Project Blue Elf events hosted more than 77 workshops, impacting over 1,100 participants, in 29 cities across the bank's footprint.