The financial institution is launching the second edition of the BBVA CIB Female Graduate Training Program, an initiative to incorporate 20 fresh female graduates in the BBVA Corporate & Investment Banking area. This initiative offers the opportunity to unlock the potential of the selected women with immersive training for a year that includes placements in different teams and countries before joining the workforce. This program is aligned with the bank's diversity strategy and shows the bank's commitment to promoting female profiles in areas where they are less present.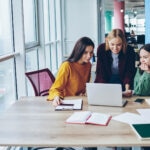 "At BBVA CIB we believe that having a team made up of individuals with different ways of seeing the world makes us a better bank. That's why we are fully committed to diversity and to fostering a collaborative and inclusive work environment," explains Oriol Foz, Head of Talent and Culture for BBVA CIB. As part of that commitment, the CIB Female Graduate Training Program seeks to "boost the potential of the next generation of women leaders at BBVA, training and preparing them for future corporate and investment banking positions."
Since 2012, more than 300 professionals have already completed BBVA CIB's graduate programs with the goal of incorporating the best talent into the area. Since 2021, the Female Graduate Training Program has been aimed at recent female graduates from all over the world. They join the area through an initial one-year immersion process, which includes training with leaders of BBVA CIB units and three-month placements in different countries.
The goal is to drive female talent in investment banking, a historically male sector with a shortage of women. In the investment banking business there is still a significant gender gap that the bank wants to erase from this first stage of attracting talent.
The new edition of this talent program features 20 internal positions in different key cities such as Madrid, Mexico City, New York, Hong Kong, London, Lima and Bogota, and will start in October. It will be an opportunity to discover how BBVA's investment banking area helps clients to carry out their projects, achieving their business, digital transformation and sustainability objectives.
Currently, 39% of the BBVA CIB area is made up of women, a figure that has been on the rise year by year with the promotion of impact measures in favor of gender equality. This is demonstrated by the fact that in 2021, 43% of vacancies in the area were filled by women (up from 35% in 2019).
You can find more information on the vacancies available in each country participating in the program on the BBVA Career Portal.