Diversity has become one of the keystones on which to build the workforce of a company. A workforce encompassing different world views will be better at addressing the particularities of all customers and will be able to offer a better service to society as a whole. BBVA is taking its commitment to diversity one step further and developing a project to change the way of writing job postings to attract more diverse talent.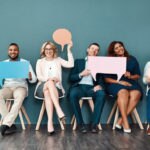 To encourage the inclusion of all types of workers, it is important to tear down the barriers preventing diversity. One of those first barriers is often ingrained in job offers themselves. Regardless of whether they aim to attract new talent or advertise in-house opportunities, the way in which job openings are worded determines the diversity of the candidates that apply to the position.
The use of a specific language can discourage people who feel underrepresented by the job ad to apply to a position, even if they meet the qualification requirements.  A clear example is the use of masculine pronouns.  But not only that:  some of the most frequently used expressions in job ads, convey the idea that there are certain natural abilities and skills that can generate stereotypes and intimidate potential candidates from underrepresented groups.
In addition, offers that are not accurate enough or that are far too demanding can discourage applications from otherwise perfectly valid candidates. As Forbes reported in a recent article, when Helwett-Packard tried to find out why more women weren't in top management positions, they made an interesting discovery: while men were happy to apply for a promotion when they thought they could meet 60 percent of the job requirements, women only did it only when they felt they meet 100% of them.
BBVA and its commitment to diversity
As part of its HR management policies, BBVA has developed a project aimed at identifying these possible situations and change the way job postings are written. BBVA's Talent Acquisition department has worked in partnership with Paradigm, a company that helps large companies design diversity and inclusion strategies, to draw-up a 10-step guide to writing inclusive job offers:
Avoid extreme language. This type of language can discourage applications from certain candidates. Words like "expert" can exclude interesting profiles. It is better to use sentences like "at least five years of experience working with this technology".
Avoid words that may convey stereotypes. Words like "compete" or "dominant" reflect masculinity and may deter women from applying to a certain job offer. It is better to use words like "motivation" or "tireless" instead.
Avoid unclear or unnecessary requirements. It is better to list essential and nonessential-but-valuable requirements separately.
Convey a growth mindset. Companies that are committed to the development of their talent are more likely to attract candidates from underrepresented groups. Expressions that reflect fixed qualities such as "natural-born analytical thinker", "extremely intelligent" or "constantly outperforming" discourage aspiring candidates who may have high growth potential. The opposite happens with expressions such as "passionate learner" or "motivated to take on challenges".
Demonstrate commitment to diversity and inclusion. It is very advisable to devote some space to describing the company's commitment to looking for all kinds of talent to build a diverse workforce in which all social groups are represented.
Use "you" and "us". According to Textio, a platform that predicts the type of response job offers will get based on their wording, offers that use "you" and "we" are filled faster. Expressions like "you love finding the best solution to a problem" to address candidates are much better than impersonal ones like "the ideal candidate".
Avoid using masculine nouns and pronouns. Using the second-person singular allows to avoid using masculine nouns and adjectives. However, when a direct reference is unavoidable, it is advisable to use gender-neutral nouns, such as "the person" or "the candidates".
Write as concisely as possible. Job offers should be brief. Ads written concisely are usually filled faster and usually draw in more applications.
State the company's purpose and values. <0} Emphasizing the company's values and mission is a good practice that should be taken into account when drawing up the offer, as it can help the candidates determine if it is a place where they would like to work.
Hiring better starts by writing better. Good writing is, in many cases, the key to promoting inclusion. According to Textio, openings advertised using inclusive language get filled 17% faster and attract 23% more female candidates.
Building a more diverse and inclusive work environment is essential to attract talent. The time devoted to drawing up job ads using inclusive language will yield almost immediate returns, since it will help attracting high-value candidates, who may otherwise choose to skip poorly written postings.
A measure praised by the Global Compact
The Spanish Network of the UN Global Compact has designated BBVA a key player in this area, and has selected this initiative as one of the best business practices linked to SDG 5. The empowerment of women is a core element of this organization's efforts to address social, economic and political challenges across the globe.  For this reason, it is working to raise awareness and publicize measures contributing the most to this goal.