BBVA leads Redexis' first sustainable financing
Redexis has made its €300 million syndicated revolving credit facility sustainable by extending its maturity profile, reducing the average cost of its debt and reinforcing its socially responsible commitment. BBVA acted as sustainable coordinator in this transaction, the first ever by the Spanish energy infrastructure company in the sustainable financing market.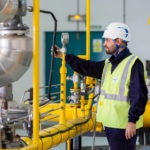 Seven other institutions have signed the syndicated revolving credit facility led by BBVA, which was made sustainable by setting up a pricing mechanism linked to the company's ESG ('Environmental, Social and Governance') rating. Environmental consulting firm Vigeo Eiris has been appointed to issue the rating reports.
With this transaction, Redexis reaffirms its commitment to sustainability and the environment, while securing lower financing costs and more advantageous conditions in a horizon of improvement, not only in economic terms, but also from an environmental and societal point of view. The company introduces, for the first time, a sustainable financing variable in its debt structure, which will allow it to benefit from lower interest rates as it improves its environmental, social and corporate governance parameters.
This financing scheme supports the company's plans to step up investments for the deployment and management of infrastructures for the transmission and distribution of natural gas or other renewable energy carriers, essential for a carbon-neutral energy future. Environmental protection is at the core of the company's business culture. Thus, the company is committed to protecting the natural environment and minimizing the environmental impact in all its infrastructure construction, operation  and maintenance operations.
BBVA, a leader in sustainable finance
As a sign of its firm commitment to the fight against climate change, BBVA approved its Pledge 2025 in 2018 through which the bank will mobilize €100 billion from now until 2025 in green financing, sustainable infrastructure, social entrepreneurship and financial inclusion. The bank has the capacity, knowledge and experience to provide its clients superior advisory services for sustainable financial solutions and is playing a key role in developing this market.
BBVA has been a pioneer and the dominant player in the sustainable loan business. Today it is one of the most active organizations on the world stage in this field and the leader in Spain and Italy.  In 2018, BBVA has led 17 sustainable finance deals in Europe and the Americas for customers in various sectors and has acted as sustainability coordinator or agent in more transactions than any other institution. As of the end of April 2019, it has led 8 more transactions.
About Redexis
Redexis is an integrated energy infrastructure company that is active in the development and operation of networks for the transmission and distribution of natural gas, the distribution and sale of liquefied petroleum gas and the promotion of renewable gas and hydrogen applications. We operate 10,500 kilometers of infrastructures across eleven autonomous communities, providing Spanish homes, businesses and industries with access to new, more sustainable and efficient energy sources Redexis is also promoting the use of gas in vehicles through investments in new mobility infrastructures. The company has a solid and continuous expansion plan and has invested nearly €1.3 billion since 2010, and strives to bring value to the communities in it is present. Redexis creates over 3,000 direct and indirect jobs.