BBVA signs its first green loan in Belgium with Katoen Natie and advises on their Sustainable Finance Framework
BBVA is consolidating its leadership in Europe's green financing market by signing a EUR 25 Mn bilateral green loan with Katoen Natie, a Belgian logistics and engineering company. This transaction represents an important landmark as it is the first green financing closed in Belgium by BBVA. Furthermore, BBVA is not only acting as lender but also as advisor on their Sustainable Finance Framework. The loan is in favour of a subsidiary of Katoen Natie for an innovative industrial recycling plant which will result in the recycling of chemical residues while also recovering materials and producing energy for neighboring industries.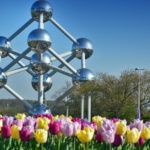 The Sustainable Finance Framework is a document that serves as the basis of all Katoen Natie's sustainable finance transactions and offers a road map for how the company will manage its sustainable finance process in the future. The framework is based on the Loan Market Association Green Loan Principles and shows how Katoen Natie manages the four pillars of the principles: (1) Use of Proceeds, (2) Project Evaluation and Selection, (3) Management of Funds, and (4) Reporting.
Having this framework in place will streamline the green loan process and will facilitate future Katoen Natie sustainable transactions. AECOM as the sustainability consultant has provided a positive opinion of the framework and the sustainability credentials of transactions financed under it.
Pedro Garrido, Head of Corporate Lending UK & Northern Europe, comments: "BBVA is pleased to accompany Katoen Natie on its sustainable finance journey. BBVA has the knowledge and experience to provide its customers with comprehensive advice on sustainable financing solutions."
Katoen Natie emphasizes: "We are very pleased to have concluded our first green loan and thank BBVA for showing us the way and giving us the support in establishing the Sustainable Finance Framework."
BBVA, a leader in sustainable finance
As a sign of its firm commitment to the fight against climate change, BBVA approved its Pledge 2025 in 2018 through which the bank will mobilize €100 billion from now until 2025 in green financing, sustainable infrastructure, social entrepreneurship and financial inclusion. The bank has the capacity, knowledge and experience to provide its clients superior advisory services for sustainable financial solutions and is playing a key role in developing this market.
BBVA has been a pioneer and the dominant player in the sustainable loan business. Today it is one of the most active organizations in this field in Europe and leader in Spain. In 2018, BBVA led 17 sustainable finance deals in Europe and the Americas for customers in various sectors and acted as sustainability coordinator or agent in more transactions than any other institution. At the end of May 2019, it had led 9 other operations.
About Katoen Natie
Katoen Natie was founded in 1854 with an activity for cotton receiving. Since then, it has immensely diversified its range of activities, combining its knowledge of loading and unloading operations, product flow handling and process engineering with product knowledge and logistics experience to develop unique, tailor-made solutions which create substantial added value in the supply chain of its customers.
Katoen Natie consists of more than 400 operational units including terminals, logistics platforms and waste treatment facilities, employing over 14,000 people and active in all parts of the world. With facilities in Europe, the Far East, North and South America and Africa, Katoen Natie acts as a global supplier of logistics and waste services.
In 2015 Katoen Natie acquired the Belgian company Indaver NV, a group involved in waste services, offering operational, administrative and management services related to waste for industrial companies, public authorities and waste collectors in Europe.