Given the massive influx of Ukrainian refugees leaving their country as a result of the Russian military invasion and looking for a place to live, BBVA has offered the Ministry of Inclusion, Social Security and Migrations 200 homes for refugees. The homes will be able to house up to 800 people and are spread throughout Spain, but are mostly located in Catalonia, Valencia and Andalusia.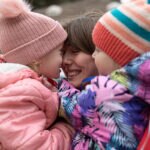 BBVA stands with Ukraine
Since February 25, just one day after the outbreak of the invasion of Ukraine, BBVA has been in contact with the main social organizations with a presence in the conflict zone. To date, the bank has implemented a series of measures to help in a tragedy, which is especially affecting the most vulnerable population (women and children leaving Ukraine):
BBVA has already made a donation of 1 million euros, split equally between UNICEF and UNHCR, to respond to the humanitarian emergency in Ukraine.
BBVA has also launched a donation campaign among its customers and employees in Spain, which to date has already raised 1.8 million euros. The donations will go to support initiatives launched by UNICEF, UNHCR, the Red Cross and Doctors of the World.
The financial institution has also set up free transfers from individuals to Ukraine.
BBVA is also easing the financial inclusion of refugees with the Basic Payment Account. To open it, the only requirement will be the request for temporary protection for displaced persons. Without any additional documentation, they will be able to open an account and obtain a card free of charge, which will enable them to access basic banking services.
Meanwhile, BBVA has backed a declaration signed by 49 companies from around the world to support refugees. The initiative is part of the Tent Partnership for Refugees, a global non-profit organization to which BBVA belongs.
Apart from this, BBVA is studying other measures to support Ukrainian refugees to meet their needs, both immediate and those that may arise in the medium or long term.