BBVA is to donate €1 million, to be split 50/50 between UNICEF and UNHCR, to respond to the humanitarian emergency in Ukraine. This step is in addition to the donation campaign launched by the bank among its employees and customers, which has raised more than €200,000 so far.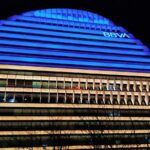 According to the UN, four million people could cross Ukraine's borders if the military attacks continue, while 12 million people may need humanitarian aid in the coming months.
BBVA had already announced that it will provide free bank transfers from individuals to Ukraine, starting March 7. The bank also continues its donation campaign among employees and customers in Spain to support initiatives launched by UNICEF, UNHCR, the Red Cross and Doctors of the World.
As a gesture of solidarity with Ukraine, BBVA's flagship buildings in Madrid (the headquarters in La Vela and the BBVA Foundation) and BBVA's tower in Mexico City are lit up in the colors of the Ukrainian flag and will remain so for as long as the crisis continues.
Since February 25, BBVA has been in contact with the main NGOs operating in the conflict zone. UNICEF and UNHCR are able to deliver aid on the ground and have recognized expertise in the challenges posed by the emergency: mass migration, acquisition of refugee status, women and children who are unprotected or trapped in the conflict zone.
UNICEF is the United Nations agency that works to protect children's rights and act in emergencies to save lives and relieve suffering. UNICEF has been present in Ukraine since 2014, where it works to improve the lives of the most vulnerable members of society, children. BBVA has worked with UNICEF on several occasions, including an educational project in Venezuela in 2015.
UNHCR is the United Nations High Commissioner for Refugees, an international agency of the United Nations that safeguards correct application of international law on refugees while supporting and protecting refugees in the search for stable solutions to their situation. UNHCR has operated in Ukraine since 2014. Its team offers help and protection to people affected by the conflict, providing essential humanitarian supplies and shelter to displaced people. BBVA has collaborated with UNHCR on several occasions, most recently during the Syrian crisis in 2015.
1

La Vela lit up in the colors of the Ukrainian flag

2

BBVA Foundation building in Madrid

3

BBVA's tower in Mexico City lit up in support of Ukraine