BBVA's financial education programs have benefited more than 13 million children and youth since 2008
BBVA's financial education programs and initiatives have benefited 15.5 million people from 2008-2019, of which 13.1 million are children and youth. According to the PISA report on financial skills presented by the OECD today, Spanish youth have improved in these skills, but continue to be below average compared to the countries included in the analysis.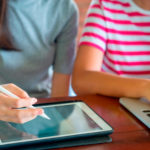 OECD Deputy Secretary General, Masamichi Kono, who was in charge of giving the opening speech at the online presentation event, began by thanking "BBVA for their support in putting together the report this year, as well as in past editions". He indicated that financial education is crucial to ensuring people's financial resilience, especially in situations of uncertainty like the uncertainty caused by the impact of COVID-19.
Yuri Belfali, the OECD's Head of the Early Childhood and Schools Division, and Flore-Anne Messy, Head of the Financial Affairs at the OECD, presented the report's methodology and conclusions. The latter demonstrated the importance of technology in access to financial education. "Students who demonstrate digital command of financial transactions performed better on the test," Messy explained.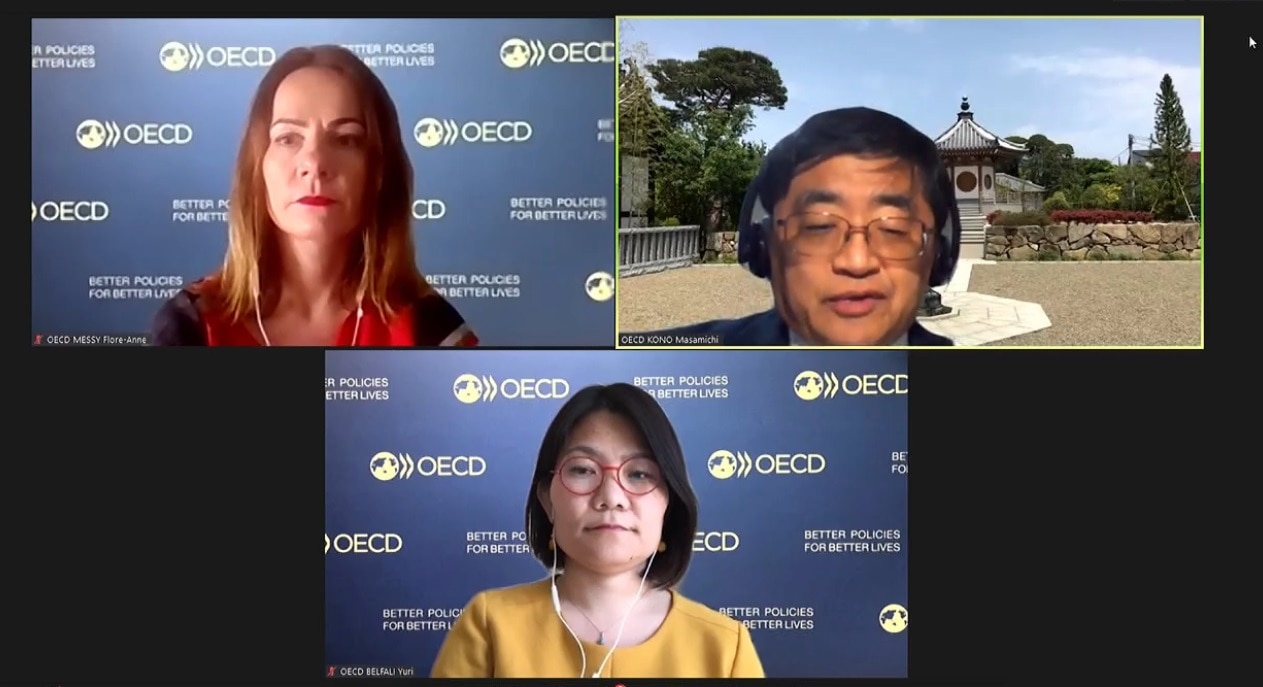 A moment during the online presentation of the PISA Report on financial competencies. Above, OECD Deputy Director-General Masamichi Kono and OECD Director for Financial Markets, Private Pensions and Insurance Flore-Anne Messy; below, OECD Director for Schools and Early Childhood Education Yuri Belfali. - OCDE
This Programme for International Student Assessment (PISA) report refers to the financial skills of 117,000 15 year olds in 13 OECD countries and economies, and seven associated countries. According to the report, students attained an average score of 505 points in 2018 compared to 489 in 2015.  Students from Estonia had the highest results in terms of financial knowledge, surpassing the average score by 42 points (547), followed by students from Finland (537) and those from participating Canadian provinces (532).
"We could say that Spain is having its best year compared to the past two years. With 492 points, it remains below average, but it has raised its score by 23 points from 2015, when it obtained a score of 469 and eight points higher than in 2012," said BBVA's Director of Community Investment Programs, Lidia del Pozo. "Another positive aspect is that Spanish students have improved their financial skills with respect to the OECD average and have cut that distance from 20 points below average in 2015 to 13," she explains.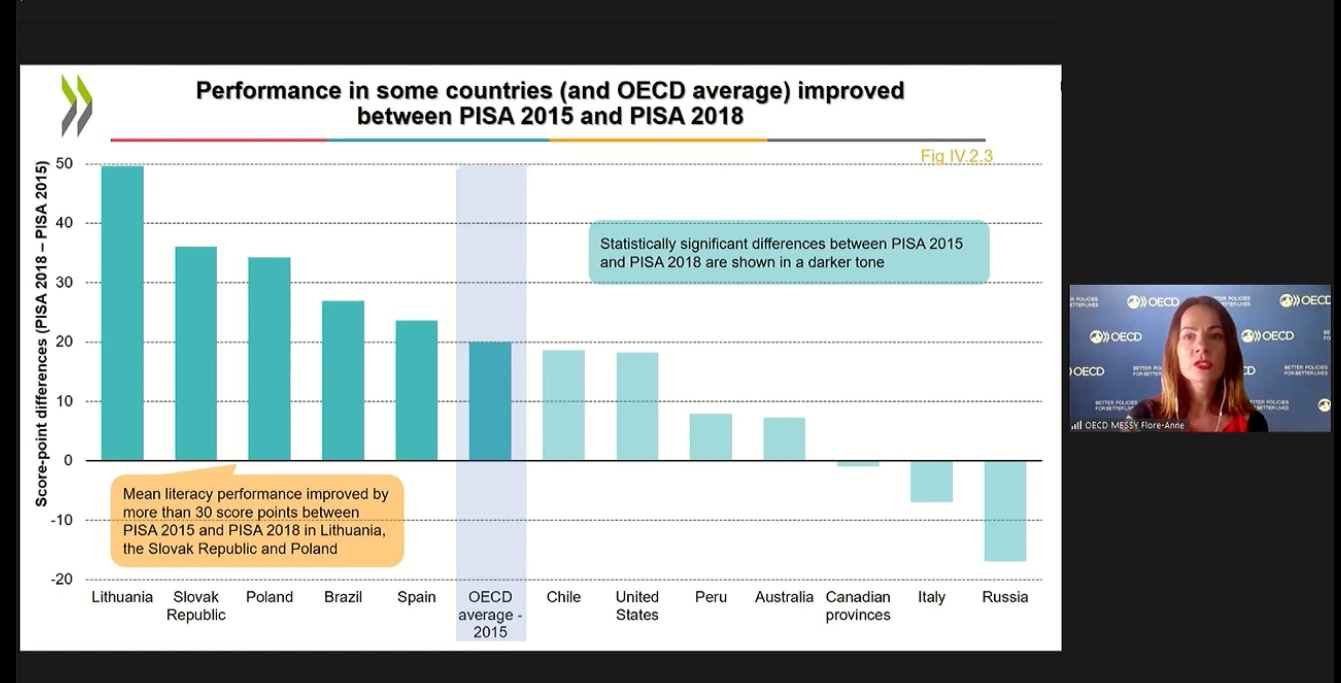 Spain improves its score regarding the 2015 PISA report. - OCDE
BBVA and financial education
In 2019 alone, nearly two million people, of which 1.7 million are children and youth, have benefited from the banks' financial education programs globally. This year, the bank has allocated €7.7 million to financial education. A long-term commitment which has represented an €89 million investment since 2008 through the Global Education Plan. This plan is based on three pillars of action:
Financial education for society to promote the acquisition of knowledge, skills and attitudes through the bank's programs and in collaboration with third parties.
Financial education in customer solutions, integrating financial skills into the customer experience to facilitate informed decision-making.
Promotion of financial education through the Center for Financial Education and Capability.

BBVA and financial education for children and youth
BBVA promotes the acquisition of knowledge, skills and attitudes through programs specially designed for children and youth in several countries where it has a presence. Some prominent examples include:
Basic financial education for children and youth through workshops that promote the acquisition of basic financial concepts, such as the program 'Tus Finanzas, Tu futuro' (Your Finances, Your Future), developed in Spain in conjunction with the Spanish Banking Association (AEB). In 2019, it supported more than 700 youth between the ages of 13 and 15. '5 Pebbles' in Turkey offers support to teachers, helping them build their financial skills so they can share them with their students. In 2019, it supported 314 teachers and 6,800 students in nine Turkish provinces.
Finance programs for young entrepreneurs, such as BBVA's Entrepreneurship School in Colombia - a project to train students between the ages of 13 and 17 in the acquisition of entrepreneurial and financial skills to come up with viable and sustainable business ideas. More than 262,000 young students have benefited from this program since 2012 (80,000 in 2019).  Other examples include 'Mi primera empresa' (My first business) in Argentina, or the financial education workshops carried out with the Desem Foundation in Uruguay, which develop and strengthen young people's entrepreneurial spirit.
Other financial education program for children in collaboration with other organizations, like the Kidzania program in Mexico, which allows the little ones to experiment with activities and basic concepts in a fun way. It has already had an impact on more than one million children. There is also the Teach Children to Save national program, sponsored by the American Bankers Association Foundation (ABA) and Money Smart from the Federal Deposit Insurance Corporation (FDIC) in the United States.
OECD - BBVA collaboration
As part of the overall collaborative framework between both institutions, which includes cooperation in other areas like pensions, BBVA has supported the OECD in elaborating the PISA report in 2012, 2015 and 2018.
BBVA's contribution made it possible to develop the methodology needed to assess youth knowledge of financial topics for the first time and on an international level, and compare levels of financial education among countries in order to identify best practices and the most effective national strategies.
In addition, the OECD is a member of the Center for Financial Education and Capability, together with the other international organizations and institutions dedicated to financial education and inclusion. It is part of its Advisory Council, promoting the development of financial skills from an early age as a key value for society and the people that comprise it.   At the Center for Financial Education and Capability, users can find relevant information on financial education in the world.