BBVA's sustainable business grows by nearly 60% year-on-year between July and September
BBVA channeled a total of €124 billion in sustainable business between 2018 and September 2022, of which €13 billion corresponds to the third quarter of 2022, a 60% increase over the same period in 2021.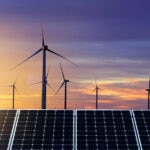 Of the €124 billion channeled by BBVA since 2018, 78% has been allocated to climate change and 22% to inclusive growth. 
By product, 79% of the total channeled at the end of September 2022 was for loans and project finance, 17% for bonds and 4% for insurance, mutual funds and pension funds, among others.
By segment, 65% was channeled to the Group's wholesale businesses (CIB); 19% to companies, 11% to retailers; and the BBVA Microfinance Foundation channeled 5%.