Garanti BBVA named best bank for sustainable financing, according to Global Economics
The bank was also recognized as the best investment bank of the year. Ebru Dildar Edin, Executive Vice President of Garanti BBVA, reaffirmed the bank's commitment to "continue to maintain its sustainability and investment objectives and to set more ambitious goals each year."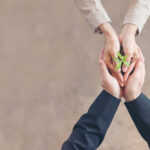 For the second consecutive year, the British magazine Global Economics has awarded Garanti BBVA the prizes for Best Bank in Turkey in Sustainable Finance and Best Investment Bank in Turkey in 2021.
Ebru Dildar Edin, Executive Vice President of Garanti BBVA, emphasized in a statement that the institution is one of the most cutting-edge in Turkey, since it has been offering innovative initiatives and financing models in the areas of sustainable development, the climate crisis and the fight against inequality for more than fifteen years. The executive underlined that to date they have contributed to sustainable development with more than 51 billion Turkish Liras in financing.
"All energy production projects that we have been financing since 2014, with the aim of decarbonizing our project finance portfolio, consist of renewable energy investments. This year, we have also taken a step forward and, for the first time in the financial sector, we have committed to not financing coal-related activities."
Dildar Edin added that Garanti BBVA is the first and only bank in Turkey to join the United Nations' net zero emissions banking alliance, in an effort to align the credit portfolio with the Paris Agreement targets. As part of this commitment, they will develop strategies to make their portfolios carbon neutral by 2050.
To conclude, the executive pointed out that recently, the Mavi Nefes project was launched in collaboration with Deniz Temiz Derneği/TURMEPA, with the aim of curbing maritime pollution and raising awareness on the cleanliness of the Sea of Marmara. "The initiatives we implement to achieve a sustainable world attest to the active role we take in many different indices and international platforms. Each year, we win new awards thanks to our proven achievements, and we take the lead over our peers in the industry. We will therefore continue to maintain our objectives with regard to sustainability and investment, and will set ourselves more ambitious targets each year."