Within a sustainable finance framework, BBVA continues to provide innovative solutions to support Turkey's fight against climate change. This time it's launched new commercial green loans for real estate developers that build and sell buildings with aspecific type of energy certification.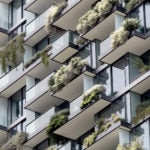 Real estate developers that present a class A or B energy efficiency certificate will be able to benefit from credit with advantageous interest rates free of fees or commissions. Buyers of properties that have one of these two types of energy certifications will be able to benefit from green mortgage loan advantages which have been offered since 2017.
"At Garanti BBVA, we take sustainable finance into account when launching new products", said Sibel Kaya, Executive Vice President of Garanti BBVA. The executive recalled that itis currently mandatory to receive an energy efficiency certificate for building construction and in this case type A or B have the most sustainable ecological characteristics. She also pointed out that the objective of the green loan is to promote sustainable home construction and raise awareness. In addition, thanks to this new product, real estate developers can take advantage of advantageous financing conditions and green mortgages for sustainable home sales that the institution offers as well. "As a bank, we are happy to contribute to the growth of sustainable construction in our country," concluded the vice president.
On the other hand, Erhan Şatana, Garanti BBVA Mortgage CEO said that "in Garanti BBVA´s mortgage division they are actively contributing to raising awareness about urban transformation, energy efficiency and green homes". He noted that, thanks to the green mortgage product they launched in 2017, they have provided more than $1.2 billion infinancing for energy efficient buildings. He also highlighted the importance they give to projects related to this type of construction and stressed that "with this product, we support green home builders" and the bank will continue to offer advantages to customers who buy them. "Apart from this mortgage loan with advantageous interest rates, we offer a 50 percent discount on the costs of granting credit", he concluded.