Garanti BBVA Mortgage unit has joined the Energy Efficient Mortgages Initiative (EEMI) Pilot Scheme which is supported by the European Union's Energy Efficient Mortgages Action Plan (EeMap) Initiative, thus becoming the first EEM member from Turkey. As such, Garanti BBVA Mortgage joins 48 other lending institutions who have committed to testing the final energy efficient mortgages framework by implementing it into their existing product lines and processes.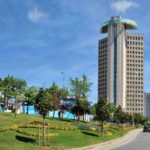 EEMI is a voluntary working group, which is developing a worldwide green mortgage framework. Their goal is to improve property energy efficiency by building incentive mechanisms into mortgage financing. The Initiative will also collect data on the performance of existing and new energy efficient mortgages from participating lending institutions.
Murat Atay, CEO of Garanti BBVA Mortgage, said: "Garanti BBVA Mortgage is proud to be the first lending institution in Turkey to join the EEM Initiative. Supporting a program that aims to contribute to energy efficiency in the housing sector, ultimately contributing to sustainable development, is very important to us."
Atay explained that Garanti BBVA Mortgage collaborated with the European Bank for Reconstruction and Development (EBRD) and the International Finance Corporation (IFC) on the first green mortgages in Turkey. In 2017, the bank launched its 'Green Mortgage,' which offered favorable interest rates, and boasts €200 million in funding from international financial institutions to support green mortgages. New homes financed with this loan must meet a minimum 40 percent energy efficiency target.
The Garanti BBVA Mortgage CEO believes the collaboration with EEMI will be a win-win relationship going forward: "We believe we can play a role in promoting green mortgages  worldwide, by sharing our experiences under the umbrella of the EEM Initiative. Conversely, we will benefit from EEMI know-how and will improve our product at home as we continue to develop innovative products that support energy efficiency."