Last year, a product that had been practically unheard of took the world of corporate financing by storm: green loans. These are loans aimed at advancing environmental sustainability and until quite recently came under the umbrella of Green Bond Principles. As of a few months ago they now have their own guidelines known as Green Loan Principles.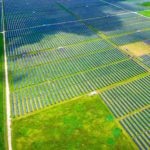 The Green Loan Principles have been jointly developed by the leading lenders most active in in the green-loan market to promote the development and integrity of the green-loan product.
These principles aim to create a framework of market standards and guidelines as well as offer a consistent methodology that can be used in the entire green-loan market while also accommodating flexibility in such loans and preserving the integrity of the green-loan market as it is being developed.
In the same way as Green Bond Principles, the Green Loan Principles establish four components that characterize a green loan:
The use of funds. The use of the loan should be clearly described in the financial documents. All defined projects should offer clear, verifiable environmental benefits. These must be concrete, quantifiable, measured and reported by the borrower.
The process of evaluation and selection of projects. The borrower should clearly inform the banks of the sustainability objectives; the process chosen by the borrower to determine how his/her projects come within existing categories; and the related eligibility criteria, and if relevant, the exclusion criteria or any other process used to identify and manage potentially material environmental risks posed by the proposed projects.
The management of funds. The amount of the green loan should be recorded in a specific account and lend themselves to adequate tracking to ensure transparency and promote the integrity of the product.
Reporting. The borrower should draw up information that is updated and made available on the use of the funds on an annual basis until the funds have been used and, if necessary, from that moment according to what the development requires.
BBVA, a leader in sustainable finance
BBVA has the capability, knowledge and experience to provide its clients with expert advice on sustainable finance solutions both in the form of bonds and loans and plays a key role in developing both markets.
BBVA is a main driver of the green-loan business and ended 2017 as the most active bank in this area with a total of 11 operations in Europe and the Americas for clients from a range of sectors and is the undisputed leader in Spain.
En 2018, BBVA has continued to complete important deals such as the first sustainable operation for global insurer Mapfre, and the first green corporate loan in Latin America with Iberdrola and the first in the U.S. with Avangrid. The bank is also making available this type of product to all kinds of companies as seen in the green loan granted to the Valencia cooperative Consum.