How to strengthen the finances of the vulnerable population against the crisis
Vulnerable population groups are bearing the brunt of the global pandemic and need more economic support measures. These are some of the ideas set forth by Mayada El-Zhoghbi. El-Zhoghbi, Managing Director of the Center for Financial Inclusion  (CFI) and new member of the Advisory Board of the BBVA Center for Financial Education and Capability, who also advocates for, among other measures, equal access to financial services.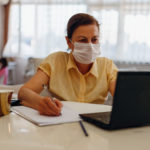 Mayada El-Zoghbi was named Managing Director of CFI in September 2019, after 20 years leading financial inclusion programs. Since then, she's been defining the vision and strategy of an institution that strives to prevent millions from being left out of the financial sector by providing them with access to the services and training they need to improve their lives. El-Zoghbi is currently worried about the impact of COVID-19 outbreaks on the most vulnerable population groups. "We're seeing that impacts have been quite diverse across all markets, with a higher number of negative impacts in some countries compared to others."
Economic and social gaps
These differences, in some cases, are immense. "According to a survey conducted by consulting firm BFA Global in Kenya over 75 percent of respondents have seen their income drop. In the UK, over the same period of time, this figure remained is slightly above 25 percent," says the managing director of CFI. Besides geographical location, another key factor when facing a crisis is the social group to which individuals belong. "Migrants are experiencing steeper declines in income than non-migrants."
The crisis is also taking a bigger financial toll on women. "Women are overrepresented as workers in the healthcare industry and many times assume more unpaid care work with children and seniors." Normally they are the ones occupying more informal and unskilled positions, and have been hit harder by the pandemic due to "significant reductions of income as factories close and the demand for informal services provided mainly by women (cleaning services, beauty parlors, etc) has collapsed." Given the current situation, Mayada El-Zoghbi is calling for fiscal stimulus measures "in the form of direct transfers to individuals and businesses."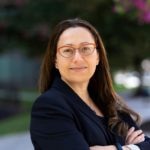 Mayada El-Zhoghbi, Managing Director of the Center for Financial Inclusion (CFI) and new member of the Advisory Board of the BBVA Center for Financial Education and Capability.
But financial measures alone will not be enough to help these population groups. "We need to address the roots of inequality" and this includes, according to El-Zoghbi, "education, housing, social welfare, as well as access to basic services such as electricity, water and sanitation." Addressing the root causes of inequality will require a joint effort from all the stakeholders in each industry. "Those of us who work in financial inclusion need to partner with policymakers, as well as community organizations and other stakeholders."
The importance of financial inclusion
Access to banking services and products is vital for the survival of vulnerable populations. In this sense, Mayada El-Zoghbi underscores that "credit, savings, insurance and payment" related products "contribute to people's ability to manage their daily expenses." The problem is that, when resources are limited, "people resort to whatever they can get, even though sometimes that is not necessarily the most optimal product at that point in time."
Access to banking services promotes financial resilience, especially when paired with digitization. "Mobile money is particularly relevant, as it helps people access resources within their networks." In the case of the most vulnerable countries, the use of new technologies has proven a crucial factor when tackling past crises. "Digital distribution has played a key role in distributing relief funds among the most needy, especially when other sources of income have been affected by government measures to close businesses," says El-Zoghbi. "In countries with a robust digital infrastructure, governments and humanitarian organizations have been able to quickly disburse assistance in cash to help the most vulnerable cope with the loss of revenue." However, the expert points out that these positive effects of digitization need to be realized concurrently with other support initiatives promoted by governmental or other humanitarian organizations, as these effects alone are not enough to make up for the lack of revenues.
Investors and financial institutions
Faced with this scenario, what role should investment play? "Investor response will have a significant effect on which institutions fail and which ones prevail," said this expert. "CFI has been working with the Microfinance Coalition to publish 'calls to action' aimed at raising awareness among investors, donors and policy makers.. The goal is to get them to support specialized organizations, so that they can keep helping the bottom of the pyramid with financial services." The sector is increasingly realizing how important it is to act responsibility to reduce the negative impact of the pandemic. "Several investment vehicles in microfinance have signed agreements between them to design a collective approach, reducing the incentives of acting alone."
In this context, financial institutions play a key role as purveyors of financial services. Mayada El-Zhoghbi expects an increase in the demand for certain products: "I believe this pandemic has sparked people's interest for insurance. It could be the point in history when the sector finally blossoms catering to the bottom of the pyramid finally blossoms."
The range of action of people during crises such as the current one is limited. We're all in this together. "Something so big requires collective action. Governments need to take a step forward helping the most vulnerable and the private sector needs to play its part. Markets cannot solve everything," says El-Zoghbi. "We need safety nets, universal medical care and a more humane capitalist system if we don't want to see the effects of this pandemic repeat themselves time and again."