The pandemic proved to be the turning-point for her to take the most important step of her life. Not without fear, Alicia García began a gender transition process to "not have to hide my identity and be able to be myself." This was a personal journey with an impact on her work environment. Although a lot less than expected.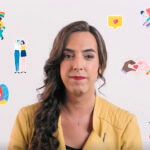 Hailing from Barcelona, Alicia took a double degree in Physics and Mathematics and achieved doctorates in both disciplines from Rutgers in New Jersey and from the University of Pennsylvania. In 2019, she joined BBVA, and shortly afterward the pandemic broke out, sheltered perhaps by the distance imposed by the lockdown, she decided to begin her gender transition. "I realized I needed to go on a journey. A personal, intimate journey, but one that at some point I would have to make public. A journey that could be difficult, but filled me with excitement," Alicia recalled.
After deciding to make herself visible to her own family, with the post-pandemic return to work at the office, Alicia pondered how she would tell her story at the bank. "I started to share with a few people close to me, with my family and friends. And I sought out support in my workplace. The response was incredible," she said. "One day I started painting my nails, although I would hide my hands at meetings. My colleagues just thought 'that's so modern,'" she remembered. At BBVA, diversity is a value that is promoted on an ongoing basis over the year through a range of initiatives run by the Be Yourself employee group.
In fact, just a year ago, the bank unveiled its handbook 'Diversidad Trans. Punto de encuentro', which provides guidance on facilitating and mainstreaming employees' gender transitions within the organization. Alice turned to Be Yourself for counseling and found a whole new family: "Be Yourself provided me with guidance on the internal process and with the administrative matters surrounding my transition. More importantly, the group is a community of people who give one another mutual support. Both professionally and personally, you can share aspects of yourself that people outside the group might not understand in the same way." Alicia was assigned a mentor to guide her through the most bureaucratic part of the process, and she began to gain visibility in all areas.
"The process happened at the same time as I switched jobs within the bank, and I decided to present myself as I feel I really am," she said. Alicia is now Head of Technical Architecture in the Client Solutions Engineering area and leads a team of 15 people. Old and new colleagues alike welcomed the news more naturally than expected. "Everyone had a kind gesture."
A corporate culture that promotes diversity
Having come through the most emotional stretch of the journey, Alice changed her name in the internal directory, in her corporate email account and in internal documents. Not in all of them, though. "The bank has procedures in place for a name change, but there are still government procedures and legal matters that require more time," she said. The private sector has taken the lead in such situations, bearing out its role as a business activist and opening a discussion for legislation to seek new solutions.
"I feel freer now, and that has a direct impact on my work"
This corporate activism BBVA to chair REDI, the corporate network for LGBTQ+ diversity and inclusion that already brings together nearly 200 Spanish companies. "We are genuinely committed to promoting diversity beyond the bank itself. This prompted us to chair REDI and reinforce our active role in favor of the LGBTQ+ collective," confirmed Ízaro Assa de Amilibia, Head of Diversity at BBVA and leader of Be Yourself. Over the past year, the bank hosted the first meeting of the financial sector on LGBTQ+ diversity, bringing together representatives from the EBA, the ECB and the leading Spanish financial groups.
BBVA lays the foundations of its corporate culture on a strong purpose and clear values and behaviors that foster diversity and inclusion. "Driving such projects requires a mature corporate culture and team management by leaders based on trust. Alicia's experience shows that an open and inclusive culture respects the uniqueness of the individual and their talent," explained Ízaro. Alice's story shows there is a need to continue promoting diversity by listening to employees, identifying the needs of under-represented groups and taking action to remove any bias or obstacle.
Losing the fear of being yourself
Pride Week is a time to celebrate successes but also to remember that there is still a way to go. The colors of the rainbow will again light up BBVA headquarters worldwide, where the bank continues to promote LGBTQ+ employee groups. Following its success in Spain, Be Yourself continues to expand in Latin America, where it has a presence in several countries. This year it opened a branch at BBVA Peru.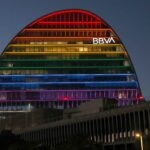 Ciudad BBVA lights up for Pride 2022 - BBVA
The bank is working to extend this type of protocol to corporate clients and to introduce new employee measures. For example, BBVA AI Factory, the bank's artificial intelligence development centre, has launched a pilot project for unisex bathrooms, while BBVA Argentina is working with the Contratá Trans program to promote the labor inclusion of the trans community in the country.
Ízaro and Alicia are already leading examples for all bank employees. "I feel freer now, and that has a direct impact on my work," said Alicia. Hiding her true identity exposed her to stress and anxiety. This meant she was unable to enjoy her work or perform to the full extent of her abilities. "The key is that hope should always overcome your fears. I've learned that I'm not alone. The efforts of others to make the invisible visible make a mark on people's minds and whole societies. All the gears end up fitting together so that I can be myself today: Alicia, a trans woman and a professional at BBVA," she concluded.