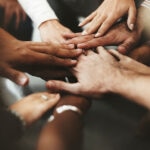 "At BBVA we want to be a place where everyone can be and feel free to express themselves as they are, where personal differences are seen as added value, and as a source of creativity and talent," said BBVA Chair Carlos Torres Vila at the opening of the Diversity Days. This year's event is dedicated to building safe spaces and inclusive environments that foster a culture of trust. This conference invites us to reflect on the value of living and thriving in environments where differences are respected, there is openness to different ideas, there is no prejudice and the language used is inclusive.
Accordingly, the bank has signed a pledge of principles against discrimination and harassment in the workplace to protect its employees against discriminatory behavior and any unfavorable treatment on grounds of nationality, race, ethnic origin, religion, gender, sexual orientation, sexual identity or gender expression, marital status, age, economic status, disability or family responsibility.
The charter dedicates specific sections to emphasizing support for the LGBTIQ+ community to make themselves visible and identify themselves, to promoting a corporate culture that embraces differences, to creating an inclusive and safe work environment, and to committing to prevent, detect, rectify and sanction any form of discriminatory conduct.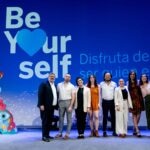 BBVA employees who are part of the working group for LGBTIQ+ diversity - BBVA
This statement marks the end of a year in which BBVA has taken key steps to make inclusion a reality in the workplace. As early as 2022, the bank introduced Diversity guidelines as a cornerstone of its people strategy. That same year, the bank set the goal of reaching 35% female representation in management positions by 2024.
In the field of LGBTIQ+, the company has put in place a pioneering protocol in the workplace to facilitate, streamline and normalize gender transitions within the organization. In 2023, BBVA introduced a protocol against harassment against LGBTI people, together with a set of measures to achieve equality for people who form part of this community. The aim is to achieve real and effective equality, to safeguard the rights of LGBTI people in the bank and to establish a procedure for reporting cases of harassment motivated by sexual orientation, sexual identity or gender expression.
Finally, earlier this year, BBVA started a working group to promote generational diversity, with the ultimate goal of challenging stereotypes, biases and exclusionary attitudes that may exist with respect to age.
Four years of celebrating diversity
The financial institution is celebrating its fourth year of holding Diversity Days, an internal event dedicated to offering staff the opportunity to broaden their knowledge on diversity and inclusion issues, while learning more about the projects promoted by the bank in this field around the world. Over the course of the event, the bank's employees across the world were able to attend conferences addressing inclusive leadership, care for diverse customers, gender equality, generational diversity, LGBTI+, diversity of abilities and cultural diversity.