Microcredit, an opportunity for Peruvian women to be entrepreneurs
BBVA CEO Carlos Torres Vila saw the BBVA Microfinance Foundation's (FMBBVA) work in Peru first-hand through Financiera Confianza. To do so, he went to one of the most underprivileged  places in Lima, where he visited with several entrepreneurs – all women – who have found an opportunity to improve their quality of live and contribute to the economic development of their family and community thanks to microcredit.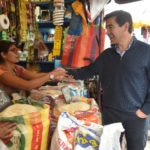 "The merit of these people lies in their hard-work and desire to do well," said BBVA's CEO during his visit to seven entrepreneurs' co-op, an artisan with a small textile workshop in her home and the owner of a small grocery store.
The merit of these people lies in their hard-work and desire to do well"
These women are served by Financiera Confianza in the San Juan de Lurigancho district of Lima. It is one of the most populated districts in the country with more than 1.1 million residents – approximately 15% of the city of Lima's population. Many of these families live in situations of poverty and extreme poverty.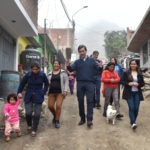 Carlos Torres Vila in his visit to San Juan de Lurigancho - Javier Zapata
Three women's success stories
Financiera Confianza's customers explain what their everyday lives are like thanks to the foundation's support. First, Carlos Torres Vila met those that are part of the Forever United Neighbors (Vecinas unidas por siempre) – a group of seven female entrepreneurs who live in Agrupación Familiar San Martín, a young town with no access to potable water, electricity or public sewerage.  Financiera Confianza customers since 2013, they are part of Woman's Word (Palabra de Mujer), a group credit program designed especially for the most vulnerable women. It serves 30,000 customers, granting an average credit of $350.50.
"Programs like this are a unique opportunity for poor, or extremely poor women to access the financial system," said BBVA's CEO. And it's their source of empowerment and the way they can improve their families' quality of life. Elisa Cuchupoma, a member of the co-op who started with her first credit of 100 soles (about 27 euros), explained: "This opportunity has allowed me to have an income, help other weavers in my community and be on the same level as my husband."
Programs like this are a unique opportunity for poor, or extremely poor women to access the financial system"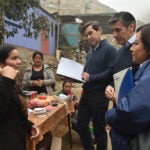 BBVA CEO Carlos Torres Vila and BBVA Microfinance Foundation Director General Javier Flores speak with Elisa Cucupoma of the Forever United Neighbors co-op, and Mariana Poma, Manager of Financiera Confianza. - Javier Zapata
Elisa's story is similar to those of other weavers, many of whom gave up their jobs because it took three hours to go from their homes to their jobs. "The salary was low and there were no social benefits. Getting there meant walking until I could find a bus, then going to the train station, waiting in a very long line to get on a train packed with people. I barely got to see my family with that job. Now I weave at home and work a lot, but I can take care of my children and be close to them," says Elisa.
In these conditions, the work of the Financiera Confianza manager is essential.  Mariana Poma, manager of Forever United Neighbors, has been fundamental to the start of the process and also for the entrepreneurs' financial training. "They need confidence because they don't have experience applying for a loan. And they need someone to support them and convince them that they can do it," she says.
In fact, in 2016, seven in ten FMBBVA customers who overcame poverty were women. According to the McKinsey Global Institute, greater gender equality in the world would add 26% to the global GDP and 34% to Latin America's GDP.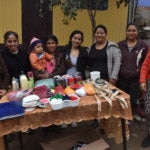 The entrepreneurs are part of the co-op Forever United Neighbors, which is part of Financiera Confianza's Woman's Word program in Peru. - Javier Zapata
After visiting the Forever United Neighbors co-op, the CEO went to meet Armandina Villanera. You have to climb nearly 100 steps to get to the small house-workshop in one of the hills of San Juan de Lurigancho. Armandina has been a Financiera Confianza customer since 2012, and with the foundation's support she was able to set up her own workshop at home, where she makes backpacks and purses.
As BBVA's CEO explained, this workshop means economic Independence for her and her children. "The loans have allowed me to buy my sewing machines, improve my home, get my business going and my oldest daughter can study international business," Armandina said.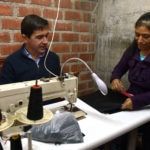 Carlos Torres Vila during his visit to Armandina Villanera's workshop in the San Juan de Lurigancho district of Lima. - Javier Zapata
Finally, BBVA's CEO spoke with Elena Ayala, an entrepreneur who sells groceries and used her microcredit to improve her home and earn money from renting small apartments. Elena was proud of how the money earned from her business has allowed her four children to go to college thanks to an education loan also provided by Financiera Confianza.
The beneficiary was her daughter, Elizabeth, who today is interested in microbiology, helps her mom with the family business and is considering continuing her studies in Germany. "My mom started with a stand in the market. Then, thanks to the support of Financiera Confianza, the business grew, she could improve the house, build apartments to rent and all of my siblings went to college. We are very thankful for all that we have achieved," said Elizabeth.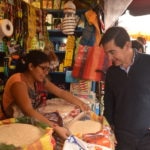 BBVA's CEO visits the market where Elena Alaya has her stand in Lima. - Javier Zapata
Financiera Confianza, social and economic impact in Peru
The BBVA Microfinance Foundation works hand in hand with Financiera Confianza in Peru, where it has more than half a million customers - of which more than 210,000 are for credit. In 2016, it added more than 83,000 new customers, of which 51% are women, 24% come from rural areas and 40% are under the age of 40. Of this amount, 43.5% accessed banking service for the first time in the past year.
Financiera Confianza has led the Peruvian microfinance sector since it was first established in 2013. With more than 140 offices and other channels to reach the most vulnerable people in the country's 25 regions, it is also the microfinance institute with the greatest rural coverage. Its mission is to create opportunities for families with limited resources, improving their income and quality of life through Responsible, Productive Finance.
The institute also provides financial education to entrepreneurs through its group credit, Woman's Word, and it Savings for Everyone (Ahorro para Todos) program.
BBVA Microfinance Foundation: 10 years of work
The BBVA Microfinance Foundation is a non-profit organization BBVA created 10 years ago. It has a presence throughout Peru though its 149 branches, where it grants an average of 823 loans per day. 70% of its customers are vulnerable.
With nearly two million customers in different countries in Latin America, the BBVA Microfinance Foundation is one of the non-profit initiatives from the private sector with the greatest social impact in the Americas. The UN has recognized its efforts in the fight against poverty and gender inequality. As a result, the Economic and Social Council of the UN recently granted it consultative status.