Miriam, Charo, Sara and Vanessa are the role models that were missing. Like many other women, they had to face the difficulties that arise when working in a world that is traditionally dominated by men. And now they serve as examples for many girls and youth who dream of a future where no one stops them just because they are female. In collaboration with the organization Inspiring Girls, BBVA brought these women to one hundred youth to show them that the princess from the fairytale now wants to be a police officer, engineer or pilot.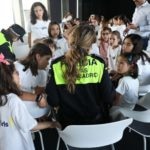 Since Marie Curie won the Nobel Prize in Physics in the early 19th Century, just 17 women have followed in her footsteps, compared to 572 male laureates. This fact is more easily explained by the current percentage of female scientists and researchers, which stands at 28 percent. United Nations has taken note of the problem, proposing to "ensure inclusive and equitable quality education and promote lifelong learning opportunities for all" in its Sustainable Development Goal (SDG) 4.
The low level of female representation in sciences, technology, engineering and mathematics (STEM) begins at early ages. A 2017 study in Science magazine demonstrated that girls start to distance themselves from these fields starting at age six. Cultural stereotypes, biases and social norms directly impact their expectations. In higher education, only 35 percent of students in STEM majors are women.
Role models to break down barriers
Given this situation, it is essential to make social changes so that, starting from when they are girls, first, women are capable of not excluding themselves and second, of fighting against the difficulties they may encounter. In the learning process, role models are crucial. This is the mission that led to the creation of Inspiring Girls in 2014 - a foundation whose goal is to increase the professional ambitions and career expectations of school aged girls, helping them to become familiar with the wide range of professions and jobs that exist - not letting the fact that they are female get in the way.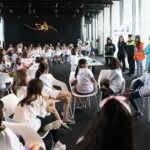 Inspiring Girls and BBVA organize an activity for a group of girls - BBVA
"Being the inspiration for someone is a marvelous task. All women can serve as an example for girls and teens, so that they get to know the infinite possibilities they can aspire to in their lives," says Marta Pérez, president of Inspiring Girls in Spain.
At an event held at BBVA's headquarters, the foundation worked with one hundred boys and girls between the ages of six and twelve - all children of BBVA employees. The children had to guess who was hiding behind a firefighter hat, a civil guard hat, or a pilot hat. The answers were almost unanimous: each of these things belonged to someone who was strong, agile, intelligent and…. with a man's name. Overall, the boys and girls were surprised to discover that professional women were hiding behind these instruments.
"As part of our purpose to bring the age of opportunity to everyone, we feel it is very necessary to organize activities like this. Working with our children from a young age to break down gender stereotypes is in line with our values and commitment to a more just society," says Enrique González, head of Corporate Culture and Employee Communication at BBVA.
In order to get more and more girls involved in STEM careers and education, far-reaching social responses are needed. Inspiring Girls' efforts in this regard is a big help, and a perfect example of gender equality in education. Action that aims to create a more participatory, inclusive and equitable society.