Using financial education to tackle modern challenges like climate change
William D. Nordhaus, winner of BBVA's Frontiers of Knowledge Award, and Paul M. Romer have been awarded the 2018 Nobel Prize for their research on how climate change and technological innovation impact the economy. Their findings substantiate the vital role financial education plays in overcoming the challenges of an ever-changing world.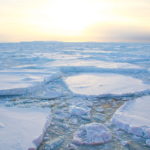 With his research, Paul Romer has demonstrated that technological innovation – stemming out of knowledge and new ideas – is an engine of economic growth and results in longer-term prosperity and sustainability.  For his part, William Nordhaus has developed economic models that assess the interaction between the economy and the climate, and evaluate how macroeconomic measures can be used to alleviate climate change.
Pay to pollute 
Climate change and technological innovation are not concerns limited to large companies or institutions; everyone can do their part. After receiving the BBVA Frontiers of Knowledge Award, Nordhaus himself explained: "The main recipe to alleviate climate change is to make sure governments, corporations and households face a high price on their carbon emissions." A measure which, although not popular, "is the one that will work." Achieving it will require a change in the collective mindset, a change in favor of the fight against climate change and one that considers financial impacts. "It is not something that will harm our economy, it will help our economy." Nonetheless, Nordhaus admits that the recipe he proposes is controversial: "This is one of the most difficult political processes we are currently facing, because it forces us to impose costs now in order to protect the distant future, and that is a hard sell." Promoting training and improving financial skills is the way to ensure the effectiveness of these measures. Doing so will give people the information they need to be able to make decisions in the facets of their life that pertain to money, including responsible and sustainable investment.
Combining education and data
The 2018 Edufin Summit, the global summit on financial education organized by BBVA's Center for Financial Education and Capability, addressed the roles of technology and climate change in the economy. "Technology empowers people and democratizes progress and prosperity. It is up to us to make the most of it," Antoni Ballabriga, BBVA's Global Head of Responsible Business said during the forum, where environmental challenges were also front and center. "In Paris, we will announce new standards that will commit the worldwide banking industry to the fight against climate change.
Buenos Aires hosted the 2018 Edufin Summit, which brought financial education experts together to discuss the industry's most significant challenges. Celebrating the event for a second year, BBVA's Center for Financial Learning and Capability organized the forum's agenda to focus on the United Nations' Sustainable Development Goals. Over the course of the two day event, representatives from the public sector, the business world, and educational institutions presented data and shared successful experiences in the area of financial inclusion.
But what about the common person on the street? Can she or he contribute to responsible growth? A positive answer depends on an improvement in financial education. "It is the combination of education and high-quality data that allows consumers and investors to make the right decisions for sustainable development," Olivier Guersent, the European Commission's Director-General for Financial Stability, explained at the 2108 Edufin Summit. In this respect, it is not an easy road ahead. So said José Manuel González-Páramo, executive director and head of economics, regulation and public affairs at BBVA. He also observed, "Financial education is a global challenge."
A change of mentality
At the forum, Wim Mijs, director of the European Banking Federation, stressed that: "Financial education contributes to a better understanding of what is needed to combat climate change." In his presentation Mijs also stressed: "Technology can't solve our problems, we have to change our mindset. This is where education plays a fundamental role." In this respect, the experts agree that there is a correlation between a society's level of education and its environmental awareness and what is needed is the creation of global networks of cooperation that include players from both the the public and private sectors.
BBVA has kicked off BBVA Invest, a new model for receiving financial advice and signing up for investment funds that is available as an app, on the Internet, and in the bank's network of branches. Using a simple questionnaire, the bank creates an investment profile for each customer and recommends the most appropriate investment fund and also provides performance expectations.
Although, achieving greater social awareness is a significant challenge, giant steps have been made in the world of finance. A Morgan Stanley report entitled "Sustainable Signals: Asset Owners Embrace Sustainability" states "Sustainable investing has gone from a niche investment idea to attracting enough capital to start having an impact on global challenges at a meaningful scale." The survey of 118 entities and individuals from around the world revealed that 84 percent of "asset owners interviewed are at least 'actively considering' ESG (environmental, social and government) integration in their investment process and almost half are already integrating them into their decisions." Even so, participants in the study recognized that the means to advance in this area are lacking: "Better tools, data, and education about sustainable investments."
Climate change is a reality that affects the entire population in every aspect of life. The historic 2006 Stern Report had already a decade ago warned that the failure to implement measures mitigating global warming would expose the planet to a recession that could reach 20 percent of the global GDP. Everyone has the power to help avoid this fate. How? With daily actions to reduce the carbon footprint, educating ourselves so we can make the best financial decisions, using the technology available so those decisions are properly executed,  and – now when they are so topical – advocating the solutions the two winners of the 2018 Nobel Prize in Economic Sciences have put forth for the betterment of our world.