Nothing escapes from the whirlwind of digitization, not even a sector as traditional as the winemaking industry. The number of startups dedicated to improving the way this centuries-old alcoholic beverage is produced, marketed and enjoyed keeps growing. In this article we take a look at some of the most-talked about companies.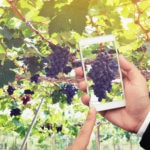 From wine pairing algorithms, to the TripAdvisor of wine, the industry is innovating like never before. CB Insights has published a map of the best 'wine tech' startups, companies that are paving the way for the arrival of new technologies to the sector. The consultancy has put together a list of 50 startups classified divided into eight categories. These companies have raised a total of over $400 million in funding in 2017.
According to Statista, global wine consumption totaled about 242 million hectoliters in 2016. Coravin, a startup that has designed a system that allows its users to enjoy their wine without having to pull the cork from the bottle, has received more support from investors than any other emerging company in this business - $64 million in 2017. CB Insights has classified Coravin under the Pour & Serve category, together with other companies such as Aveine, which has developed a smart wine aeration system: a small device that is placed on the bottle and introduces the right amount of air on the wine to ensure that it is served in ideal conditions.
As with Aveine, other companies selected by CB Insights are aiming to curb the complexity linked to wine consumption, in order to make it more accessible to less knowledgeable consumers, suppliers and restaurants. One of the major challenges that many people face, prior to uncorking a bottle, is picking the right one. How can you tell if a wine is good or not? What kind of food is it best served with? These are fairly common questions, and AI seems to have the right answers.
Pairing in the 21st century
Matcha, founded by two French sommeliers and aimed at restaurants and retailers, has developed artificial intelligence algorithms that offer wine recommendations based on user preferences and the food the wines are meant to accompany. Another factor with a huge impact on the quality of the wine-drinking experience is knowing the exact date at which the wine will be at its best. But that's not as easy as it seems. To solve this problem, Sublivin, also from France, has come up with an algorithm capable of predicting when that time will come. The startup is aiming to offer a "smart wine assistant" that will help wine producers make the most out of their crops at the time of selling them.
Experts apart, perhaps those who struggle the most with the refinements of wine are the end-consumers. CB Insights has defined several categories, including such as wine-rating, subscription services and home delivery, with these end-users in mind.
One of the most successful startups within these categories is Winc, which creates a taste profile of each particular user, based on how much they like and dislike certain flavors (salt, citrus, dark coffee…). Taking this profile into account, the startup - which recently raised $42 million in funding - sends its subscribers a selection of four bottles each month, tailored to fit their tastes, thanks to big data.
Recommendation apps and grapeless wine
In the subscription and home delivery categories there is a broad variety of proposals: From KOL's 24/7 home delivery service (currently only within Paris and surrounding areas), which has already raised more than $1.1 million, to Vinebox's delivery service of top quality wines by the glass, not by the bottle.
The list also includes a number of wine recommendation apps, such as WineAdvisor, which allows users to scan labels to find more about a bottle, or Chinese start-up 9KaCha, which uses image recognition technologies to identify wines and allows users to rate the wines they try.
But besides the digital sale and consumption models, other startups are exploring ways in which to leverage advanced biotechnologies to improve wine production at its source. San Francisco based Ava Winery is pursuing an ambitious goal: producing wine without grapes. For that purpose, the team of eight scientists work together in its laboratory to emulate the hundreds of chemical components that give wine its distinctive flavors, scents and textures. For some wine enthusiasts, this may sound like sacrilege, but the company is determined to offer "a traditionally exclusive product that everyone can afford."
Finally, there are other startups that are working to bring the Internet of Things to the world of wine - specifically, tech-enabled systems that provide optimal storage conditions, key to wine's proper preservation.
Startups such as France's Caveasy and Cellier Domesticus are developing smart wine racks and storage systems, capable of monitoring factors such as temperature and humidity, and making the necessary adjustments to keep the bottles in the best conditions. Caveasy also allows users to set up the application to notify them when their rack is not full enough. It's all about keeping the wine lover happy! Cheers!