Visitors to BBVA Compass branches on May 3 were treated to a sea of blue-clad team members waiting to give them special treatment as part of the bank's first-annual Customer Appreciation Day.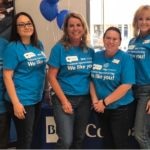 More than 4,000 team members across BBVA Compass' 649 branches wore special shirts and gave away cookies and jellybeans to customers all in an effort to express the bank's appreciation for the trust they put in the bank day-in and day-out. The effort, says BBVA Compass Director of Client Experience Stacey Dreyer, underscores one of the bank's three guiding principles - customer comes first.
"We celebrate our customers every day," she said. "But we wanted to set aside one special day to really blow them away and give them a sense of just how much we appreciate their business."
During the special day, the bank offered a promotional CD rate of 1.85 percent APY to interested customers that they could take advantage of only during that day. Customers opening new accounts also received special promotions, including cell phone fans and popsockets. Finally, customers opting to update their contact information, were offered a $5 coffee gift card.
According to Dreyer, the day was a roaring success with more than 13,000 gift cards given away, many customers taking advantage of the CD promotional rate and still others opening new accounts.
"Of course the business aspect was a happy result, but even better was that our team members were able to spend their time demonstrating to customers that we are actively seeking their best interests when it comes to their unique financial journey," Dreyer said. "Our goal is to always put their interests first, and Customer Appreciation Day really helped us demonstrate the myriad ways we do that."
San Juan, Texas Branch Retail Executive Cynthia Aguilar: "We loved Customer Appreciation Day in our branch and would absolutely love to do it again"