The BBVA-El Celler de Can Roca homage to Argentina with "Messi's goal"
The BBVA-El Celler de Can Roca tour said goodbye to Argentina prior to embarking on the US leg of the tour. Over the course of their one-week stay in Buenos Aires, brothers Joan, Josep and Jordi Roca, owners of the world's best restaurant, treated over 500 BBVA customers and guests to a specially designed menu, with ingredients and wines hailing from almost all of the country's regions.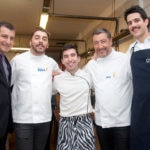 The Roca brothers thanked their Argentinean guests for their warm welcome and hospitality paying homage to the nation's culture and gastronomy. Of all the dishes served, it was the adapted version of "Messi's Goal" - Jordi Roca's reenactment of the Barcelona forward's goal for his national team – that took the spotlight. The World's Best Pastry Chef 2014 did not hesitate to dress in Argentina's blue and white – Albiceleste – national team shirt to compose a passion fruit, lemon and dulce de leche to cream topped with mint and eucalyptus, accompanied by a dulce de leche ball that dribbles past two mango and mint 'marshmallow' Brazil defenders, ready to strike a sugar icing net.
"In Argentina we have felt at home, warmly welcome, and I couldn't think of a better way of paying homage to the country than by reenacting a goal of its best player," explained Jordi Roca.Martín Zarich, BBVA Francés country manager, expressed his gratitude to the cooks and staff of the Catalan restaurant that had traveled all the way to Argentina to cook: "Their visit is a clear indicator of the levels of exposure and growth that our cuisine is reaching. The Roca brothers embody some of the values that BBVA stands for, such as innovation and social responsibility. That's why I'm so happy with their visit, and why I want to thank them for sharing their excellence with our customers."
Precisely, bearing witness to their social commitment, the last dinner that the Roca brothers served in Argentina concluded with the announcement of the two candidates chosen by the brothers, out all those that helped them during their stay in Buenos Aires. Nahuel Navarro de la Fundación Camino Abierto y Tomás Delgado de Ott College received a grant that will allow them to complete a four-month training program during which they will be learning from the best at the El Celler de Can Roca restaurant in Girona.
After the successful conclusion its first stage in Buenos Aires, the BBVA-El Celler de Can Roca tour will be visiting Miami, Birmingham and Houston in the US, before taking off to Istanbul in Turkey. Overall, almost 2,000 people will be able to enjoy the El Celler de Can Roca's menus in the second edition of its world tour.
Follow the Roca brothers on social networks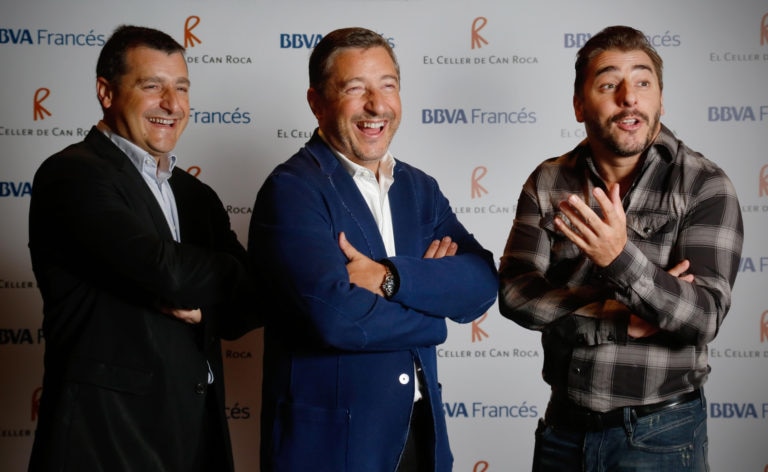 Official Site
facebook.com/CellerRocaBBVA
instagram.com/cellercanroca/
@CellerRocaBBVA