As widely expected, the ECB concluded its monetary policy meeting yesterday without making any changes to its monetary policy stance. As BBVA Research's ECB Watch report notes, there were other key takeaways that came out of the meeting, such as the end of the Asset Purchase Programming, and the confirmation that the bank is in no rush to hike interest rates. From an economic standpoint, the institution affirmed its inflation outlook but slightly lowered its growth expectations for the euro zone.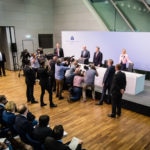 The ECB left interest rates unchanged yesterday and vowed to keep them "at their present levels at least through the summer of 2019, and in any case for as long as necessary." Regarding the asset purchase program (APP), the central bank confirmed that, after September 2018, the monthly pace of net asset purchases will be halved - to €15 billion - until December 2018. After that, the institution will end the programmer. However, the ECB maintained the dovish tone of its monetary policy, as Mr Draghi stated that "significant monetary policy stimulus is needed."
In its report, BBVA Research also reflects Mario Draghi's words about the European economy. The ECB President downplayed the recent stream of "disappointing" data when explaining the institution's decision to leave its inflation outlook unchanged at 1.7%. However, notes BBVA Research, the institution has revised its GDP growth slightly downwards to 2 percent in 2018 and 1.8 percent in 2020.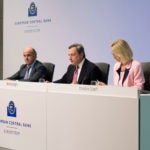 ECB's press conference - © European Union 2018 - European Central Bank
Mario Draghi mentioned protectionism as one of the most pressing threats facing the European economy. However, he noted that this risk, as well as volatility in emerging markets, should be offset by upside domestic risks stemming from less neutral fiscal policy in some members states and the improvement in the labor market and wages.
All in all, concludes BBVA Research, the ECB is on track to end its Quantitative Easing, QE, programmer, but "refrained from giving new clues on the next steps on the path to normalization." As the ECB Watch report notes, Mario Draghi stressed that it is premature to talk about rate hikes. In the coming months "the focus will be on knowing at what pace interest rates will rise," says María Martínez, senior economist in the Financial Global Markets Unit at BBVA Research.  So far, "the ECB seems comfortable with markets expectations; hence, they are not in a hurry to make any change in its forward guidance."