The global remittance market is slated to be at an all-time high in 2017, according to BBVA Research's Yearbook of Migration and Remittances, and the U.S. has the lionshare of the market.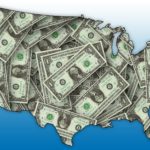 In fact, says the team at BBVA Research, the remittance market in the U.S. accounts for nearly a quarter of the remittances sent worldwide, a number that is substantially higher than the second highest country on the list, Saudi Arabia, which sent just over 8 percent. So where does that money go once it leaves U.S. borders?
The short answer is that much of it heads south, to Mexico, where in 2016 migrants in the U.S. sent some $27 billion.
In fact, the research indicates that migrants in the U.S. sending money to loved ones in Mexico accounted for more than 95 percent of all money coming into that country from remittances. And in the U.S. that money is most often sent from California and Texas, states which accounted for 31.1 percent and 14.6 percent of the total, respectively.
All of which is why BBVA's new app-based service for remittances, Tuyyo - a service that is provided by BBVA Transfer Services, Inc. pursuant to its licenses, has an initial focus on the important U.S. to Mexico corridor, where it's looking to provide an increased level of convenience to those receiving the funds, letting them withdraw the sent monies from any BBVA Bancomer's network of 11,000 ATMs in Mexico.
In a story announcing the launch, BBVA said that with Tuyyo, it was seeking to grow the digital-to-digital and digital-to-cash market, adding more security for senders and receivers, as well as increased convenience, speed and efficiency. Also, by making photo, text and (soon) video communications available through the app, Tuyyo gives the sender and receiver an avenue to express the emotions that come along with sending money to loved ones in another country.
To launch the app, Tuyyo is featuring a waived transfer fee for the first transaction, after which there is a flat fee of $5.49 plus the applicable foreign exchange rate.*
For more on sending remittances from the U.S. to Mexico via Tuyyo, visit www.tuyyo.love and read more about the app-based service here.
For BBVA Research's Yearbook of Migration and Remittances, click here.