BBVA aims to shake up the global remittance market with launch of Tuyyo
BBVA is set to shake up the $600 billion annual global remittance market with the introduction of its newly launched digital money transfer tool aimed at simplifying the process.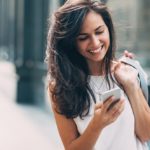 The Spanish lender has produced an app-based service called Tuyyo in a bid to grab a slice of a market which tens of millions of people use annually.
BBVA's solution will focus on the world's biggest remittance corridor - from the U.S. to Mexico - where in 2016, some $27 billion was sent.
The U.S to Mexico Remittance Corridor
The U.S. - Mexico corridor provides critical support to more than 1.6 million homes in Mexico, with up to 7 million people reliant on the money earned north of the border coming south.
BBVA's economic research team, BBVA Research, recently published findings that demonstrate the life-changing power of the U.S. to Mexico remittance corridor.
The $27 billion Mexico received from the U.S. in 2016 was its historical maximum, a figure which exceeded the foreign currency income received by Foreign Direct Investment, income from international travelers and oil exports in the same year.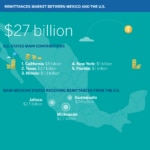 Remittances market between Mexico and The U.S
The research also examines how remittances help fuel Mexico's economic engine and act as a social safety net. More than 50 percent of those receiving funds spent at least some of the money on food and clothing (51 percent for women and 66 percent for men). Paying debts was the next highest category (41 percent of women and 30 percent of men), followed by healthcare (25 percent of women and 15 percent of men).
Next came helping to finance a car (21 percent of women and 23 percent of men) and close to that housing costs (21 percent for both men and women). The one outlier between the two genders was business, which 18 percent of men said they spending money on, with only negligible results for women responders to the survey.
Meanwhile, the number of people born in Mexico who have emigrated to the U.S. has held steady over the past few years. According to the American Community Survey (ACS), 11.9 million Mexicans lived in the U.S. in 2015. To them must be added the second and third generation population, giving a total of approximately 35 million Mexican-Americans in the US.
Currently, more than 90 percent of remittances are sent cash-to-cash, predominantly via cash pick up locations - shops for example (roughly 37 percent) or through money transfer agents where the costs involved in getting the cash can be considerable.
The Tuyyo Difference
Tuyyo is seeking to grow the digital-to-digital and digital-to-cash market, adding more security for the sender and receivers, as well as increased convenience, speed and efficiency.
In going after this segment, BBVA and Tuyyo are extending their mobile focused digital strategy to a market of millions of Mexican-Americans living in the US.
One of the app's key features provides an increased level of convenience to receivers of funds, giving them the ability to withdraw the sent cash from any of BBVA Bancomer's 11,000 ATMs across Mexico.
Uniquely, in time the app will also evolve to provide a solution for some unbanked people by creating a virtual bank account for the receiver that allows them to store funds until they are needed, rather than having to withdraw and carry the cash around.
Further evolutions include being able to offer insurance or micro-financing solutions with the sender paying the bill through the app for the benefit of the receiver - for example to buy a new refrigerator where the installments are paid through the app direct to the retailer.
Unlike other services focused on the pure business of sending and receiving money, Tuyyo is also seeking to build on the emotional connection remittances generate, by allowing the sender and receiver to communicate via photo, text and in the near future videos about the transfers through the app.
Tuyyo will launch the service with money transfers from the U.S. to Mexico, where the average amount sent from those in the U.S. is about $1,900 per family each year.
It is then expected to expand to some South American countries, before potentially launching in other countries around the world.
What are remittances spent on by gender
The Worldwide Opportunity
Across the globe, worldwide remittances could reach $606.4 million in 2017, up by 3.6 percent  on 2016 figures.
It is estimated that by 2018, 75.5 percent  of remittances will be sent to developing countries, more than half of them to Asian countries.
In 2015, the U.S., Saudi Arabia and the United Arab Emirates were the main sources of sent  remittances, while India, China and the Philippines were the main recipients.
Among the top ten remittances corridors in the world, the United States participates in six of them, two in the Americas with Mexico and Guatemala, and four in Asia with China, India, Vietnam and the Philippines.
Where the U.S. to Mexico Money Comes From
Some 95.4 percent of remittances to Mexico originate in the U.S., and 97.8 percent are sent by electronic transfer.
In 2016, the top U.S. states by volume of remittances to Mexico were California which transferred $8 billion and Texas which sent $3.7 billion. Other states with significant flows include Illinois ($1.3billion); New York ($1 billion); Florida ($1billion) and Georgia ($997 million). Arizona, Colorado, North Carolina, Minnesota and Washington also all sent more than $500 million.
Since 2003, Michoacán has remained the state that receives the most remittances in Mexico. In 2016, $2,748 million in remittances were received, followed by Jalisco ($2.518 million) and Guanajuato ($2.414 million). From 2013 to 2016, the Herfindahl-Hirschman index suggests that there has been an increase in the concentration of remittances among fewer Mexican states.
Tuyyo will be available to download from the Google Play and Apple App store starting October 16.
The first transfer will be free of charge, after which there will be a flat fee of $5.49 plus a FX rate applied when sending money to Mexico. First time users in Mexico will have to pay a one-off visit to a BBVA Bancomer branch to verify identify, and will be shown how to use the service during that visit after which they simply have to enter a code into any BBVA Bancomer ATM to withdraw their funds.
For more information, or on how to send remittances from the U.S. to Mexico, visit www.tuyyo.love
For more information on BBVA´s research, visit https://www.bbvaresearch.com/en/public-compuesta/mexico-yearbook-of-migration-and-remittances-2017/
Tuyyo is a service provided by BBVA Transfer Services, Inc., licensed as a money transmitter (NMLS ID: #937914) by the New York State Department of Financial Services, licensed by the Georgia Department of Banking and Finance, License Number 42938, licensed as a foreign transmittal agency by the Massachusetts Division of Banks, License/Registration Number FT937914, licensed as a money transferor by the Rhode Island Division of Banking, and licensed in all other states, as required.