Global consultancy Deloitte recently released a series of articles from their global digital banking consumer survey. In their third article, Recognizing the value of bank branches in a digital world, they found that bank branches continue to have value, even as digital becomes increasingly prevalent in all our day-to-day interactions.
BBVA Compass' 644 branch strong network plays a key role when it comes to blending its digital transformation efforts with human interaction. Representatives from three key areas of the bank have given their thoughts on the branch's value as a physical structure, a component of digital transformation and as a feeder for other areas of the bank.
The value of the branch and its people: BBVA Compass Retail Banking Segment Executive Larry Franco
"I remember reading articles in 2013 that said branches would disappear, which clearly has not happened. In fact, if you look at the number of times people visit a branch and break it down by generation, Millennials lead the way in monthly average visits, over Gen X and Boomers. I think this is because the mature Millennials are in their 30s now, and as as their financial needs have become more sophisticated, they've outgrown the simplicity of a digital provider that can essentially move money via a checking account. When it comes to what I call trust products - those that are more sophisticated like brokerage accounts, mortgages and the like - people are looking for advice, and there isn't a reliable online provider for that, so they come into the branch. I think this is where mature Millennials are now finding themselves.
So, it's incumbent on us to match that type of customer expectation with branch employee behavior, which means branch personnel being comfortable having detail-oriented discussions with customers. To be sure we're delivering this level of interaction, we have a licensed banker program, which offers our bankers the ability to get their licenses for life, health and other insurance, as well as their Series 6. We also have a mortgage certified employee program that gives our bankers the knowledge to have an in-depth conversation about mortgages. Both of these programs put bankers in the position to have the more sophisticated in-person conversations about investments and services that customers want and are not finding in digital channels.
Franco: Today, more than ever, the branch is part of a customer ecosystem...
Today, more than ever, the branch is part of a customer ecosystem that works together with ATM, online, mobile and telephone banking to provide the customer a network that is available when and where they are, and with the service and advice they want and need.
The times are changing, and our branches - and the people in them - are changing with them. As our tellers become universal bankers with new skills, new training, new core competencies and a career path to grow in the company, we are recognizing that there are no routine transactions anymore.
Essentially, our branches are moving from a waiter to a physician model to meet customer expectation and demand. We are moving from taking customer orders to assessing their individual situation and making a recommendation based on their needs."
The value of the branch in digital transformation: BBVA Compass Director of Relationship Model Discipline Cody Sparks
"Branches are most often referred to as places that people come for advice for financial products like mortgages and investments. But I think we also need to recognize that branches are also centers for expertise about financial strategies. And those strategies include how to transact in the 21st century and how our customers can use their own financial data to make better decisions. Although our app makes the tools available to our customers, our branch team makes these tools come to life.
I think that we can all agree that both technology and financial decisions are intimidating to many. But, when someone that you know and trust helps guide you through a decision or takes the time to show you to use technology, that barrier comes down. That's exactly what our branch team does every day.  It's also why we created our in-branch digital tools demonstration program. We've trained our branch teams to be experts in our mobile banking app. They don't just talk about it. They help customers to sign-in to the app and then hand-in-hand the bankers and the customers configure the app to the customers preferences. Together, they customize alerts and perform digital transactions and show the customers how to earn cash back with programs like Simple Cash Back. Our bankers love to see their clients in person, and that human touch goes a long way in building positive relationships. This program is a supplement to those interactions. It essentially is our way of giving customers another tool to help them proactively manage their finances.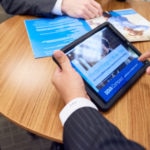 Retail branches are an increasingly important part of the BBVA Compass' digital transformation. The bank's retail network is supporting a "universal banker approach" with innovative technologies, including its proprietary customer service application Client Vista. The application provides a 360 degree view of client relationships and is used by bankers via tablets to mobilize, streamline and personalize the banking experience for customers from inside or outside the branch.
So, for me, it's not just about our branches being places were people come for advice on products, but also about how to use digital to make things safer, faster and more integrated. In that way, they can make better decisions for their future. It wasn't that long ago, that our customers waited for their monthly paper statement so that they could reconcile their account. But that activity was all about looking back at the past. With the programs like our digital tools demonstration program, we're showing customers how to use technology to make proactive forward looking decisions. Our bankers and branches are the experts who will make that real for our customers."
The value of the branch in feeding other areas of the bank: BBVA Compass Commercial Banking & Global Wealth Texas Regional Executive Jeff Dudderar
"We know a large percent of new banking relationships start at the branch. Branches are in fact a feeder for business across the bank.
In Commercial, we receive referrals for Commercial, Wealth Management and Small Business all the time from our branches. I think the reason for this, in part, is that many times a client or potential client is seeking services, so their first course of action is to find a branch, walk in and ask for help. It's a logical thought process - the customer determines they need banking helping, they see a branch, walk in the branch, ask for help. It's our Retail bankers' job to ask them questions and get them to the right place, and they do a great job of it.
Dudderar: Our digital efforts compliment our in-person interactions, but I don't believe they replace them...
In that scenario, without a branch, that same customer may have gone to another bank branch. For this reason, and more, I don't see a future without branches. Will they operate differently? I think so. But we can't lose them, because it's part of our omnichannel approach, and ultimately, money is complex and the feelings behind it are personal. Our digital efforts compliment our in-person interactions, but I don't believe they replace them. Branches - and the skills and knowledge of the people in them - are important to the whole bank, not just Retail customers."
---
To find a BBVA Compass branch near you, click here.