Carlos Casas, Global Head of Talent and Culture at BBVA, was tasked with delivering the closing speech at the latest edition of Sondersland Fest, a virtual event that brought together in Madrid top talent experts to share their insights on the latest trends on this matter with the thousands of young professionals that participated. "We are currently living a key moment where industries that are experiencing powerful transformations, such as ours, must transmit to younger generations what it takes to build the talent that the market professionally demands," explained Casas.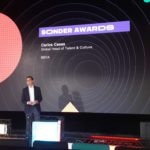 At a turning point for a generation that is witnessing how the future is becoming increasingly uncertain due to the COVID-19 pandemic, companies need to find new ways to approach these young people. "We are here today to continue to bet on talent," he said.
"We're a financial company and we help people make the most out of their finances, of their resources. We want to support our customers and this has to do with how we do things, it has to do with people, with talent… issues that have been addressed during this festival," he noted. Casas recognized that he and his team had learned a lot from the presentations on how to attract and develop talent, and how to create opportunities for teams and employees. "This is a huge source of inspiration for all of us," he said. Finally, the BBVA executive handed out one of the festival's awards to entrepreneur Alicia Chong, and thanked the organization for their efforts in making the event a success.
The biggest virtual talent festival
Over the course of three days, Sondersland provided a virtual meeting point for young people across the world. A number of virtual venues and unique experiences hosted presentations and appearances from some of the most influential young voices of their generation, individuals that have proven their potential and commitment to change the world. The attendees had the opportunity to interact with the companies sponsoring the event and to find out first-hand about the trends that will shape the future of the talent market.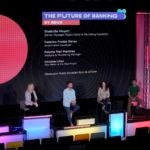 BBVA's panel discussion at Sondersland Fest 2020 - Sondersland Fest
BBVA, one of the key sponsors of the event, was part of the training experiences and lectures delivered by some of its collaborators. Anxo López, head of the Design discipline and María Williams, head of Retail Sustainability, took part in a laboratory entitled 'Sustainable Life: Turning thought into action' to explain how, through a 'design thinking' exercise led by 'Agile Coaches', BBVA is able to measure the impact that each day to day gesture and behavior has on sustainability.
On the other Margarita Barrera, Head of Design, and Annemarie Gläsel, Design Researcher, spoke about how design drives transformation. Also, they spoke about the new edition of the Future Designers Program, a program intended to attract and train designers.
Finally, Sheiludis Moyett, senior manager Digital Sales & Marketing Capability; Christine Urhan, Dojo Master at Ninja Project; Federico Prades, Quantitative Developer; and Paloma Marín, Analysis & Monitoring manager, participated in a panel discussion that focused on the role of banking in the future of the planet and how the sector needs to adapt to keep bringing value to society.