Time magazine calls BBVA the top Spanish bank in the 'World's Best Companies 2023'
The prestigious publication has included BBVA among the best companies in the world in the first edition of this list put together in collaboration with Statista.The bank is the second Spanish company in the ranking and sixth bank worldwide. The 'World's Best Companies' is a comprehensive list of the most remarkable organizations around the globe  in various sectors based on three dimensions: employee satisfaction, revenue growth and sustainability.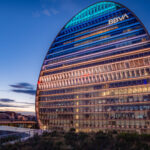 BBVA is among the top 100 companies in the world, according to Time, specifically ranking 83rd in a list of 75' companies from different sectors. When limited only to the financial companies included, BBVA is the top bank in Spain and sixth bank worldwide. "Time's recognition confirms our commitment to three fundamental pillars in our strategic plan: having the best, most committed team; profitable growth; and helping our customers and society in the transition toward a sustainable future," said Carlos Casas, Global Head of Talent and Culture at BBVA.
"We have transformed the bank in the past decade, putting it at the cutting edge, as pioneers, driving major technological trends. It is deeply satisfying to see that all of this work is valued and rewarded," he added. In the past year, BBVA has been recognized in various lists and by various awards, among which LinkedIn Top Companies of Spain, Top Employer Spain, Gallup Exceptional Workplace Award and the Merco Spain Talent report stand out.
First edition of the 'World's Best Companies' by Time and Statista
In order to create this ranking, Time and Statista established 15 assessment criteria related to three dimensions: employees, results and sustainability. Over 150,000 survey respondents from 58 countries participated in the process to determine the best companies in the world. In addition, each company's profit from the past three years was evaluated and different indicators were taken into account in the areas of environmental protection and corporate social responsibility.