The U.S. based consulting firm, Gallup, has selected BBVA as one of the most exceptional companies to work for in the world. The Gallup award recognizes organizations that are committed to the corporate culture and talent development of their workforces.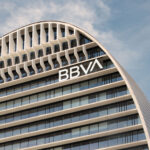 From the technological transformation through the pandemic, work environments have faced major challenges in recent years. BBVA has managed to evolve its work methods in order to adapt to this changing environment, becoming a role model for talent management and corporate culture. This was recognized by the consulting firm Gallup, which chose BBVA as one of the leading companies in its 2023 list of the best places to work.
"For several years now, we have faced significant challenges in people management. At BBVA, we have managed to respond to each of them, with an important active listening exercise to learn about our employees' needs. That has been the key to the successful introduction of major changes like the new hybrid work model," explained Carlos Casas, Global Head of Talent and Culture at BBVA.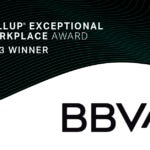 In 2022, the bank consolidated its flexible work model, raised salaries for employees in Spain to mitigate the effects of inflation, improved professional growth processes and set the goal of having 35 percent women in management positions by 2024, among many other initiatives. "All of this has led to greater commitment from our employees, who appreciated these efforts to improve the work environment. Recognitions like Gallup's confirm that the measures that we implemented are indeed essential to becoming a great place to work," he affirmed. The Gallup award joins the recent recognition by Merco Talento,  which included BBVA in its report as the best financial institution to work for in Spain.
The importance of engagement
In this context, Gallup selected the 57 companies in the world that are adapting the best to these changes, putting their employees' engagement at the heart of their corporate strategy and embedding engagement into their very culture. "Gallup standards for employing engagement are among the most demanding in the world. BBVA has made a serious investment in applying engagement and has raised the bar for your employees workplace experience," said Jon Clifton, Gallup's CEO. "Based on BBVA five guiding principles it's clear that people are their priority. That people-centric mindset is what makes BBVA organization an exceptional place to work," adds.
Employee engagement is an essential element in the current situation. Gallup's study shows that at the winning companies of the Exceptional Workplace Award, the ratio of engaged employees to actively disengaged employees is 16 times higher than the international average: 72 percent of employees in these organizations are engaged, compared to 21 percent of all companies analyzed by Gallup.
Gallup's meta-analysis on team engagement and performance analyzed data on more than two million employees in 276 organizations across 54 industries and 96 countries worldwide. Highly engaged organizations significantly outperform their peers in important business outcomes, including customer ratings, profitability, productivity, turnover, safety incidents, shrinkage, absenteeism, quality, well-being and organizational citizenship.