BBVA's banking app takes overall top spot in Europe for the third year in a row, according to Forrester Research
BBVA continues to lead the pack in European mobile banking for the third year in a row, according to independent Research Firm Forrester Research. Garanti bank, BBVA's franchise in Turkey, also had the second highest overall score.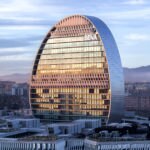 BBVA has once again secured the top ranking amongst European mobile banking apps "by combining outstanding functionality with a well-designed user experience" in the new edition of Forest Research's newly released prestigious report 'The Forrester Banking Wave™: European Mobile Apps, Q2 2019'.
From February 4 through March 13, 2019, Forrester analyzed the functionality and user experience delivered by the mobile banking services of 10 leading banks in France, Italy, the Netherlands, Poland, Spain and Turkey. BBVA earned the top possible score (100 points) in functionality.
BBVA also received the top score possible in the login and security alerts – which features cutting edge biometrics technology such as ultrasound fingerprint and iris recognition - money movement, self-service features, assisted service features, and marketing and sales criteria.
In terms of functionality, Garanti - which will be updating its brand soon to Garanti BBVA - took second place, with a score of 94 points.
In user experience, BBVA earned 85 points, while the report also highlights the bank's best-in-class privacy and security statements, with a score of 88 points in the privacy and security cues and content criteria, higher than any other institution in the evaluation. The report adds that it believes this score stands as a recognition of BBVA's efforts to bring the best security features to its customers.
"Forrester, in our opinion, has recognized BBVA's strategy, the bank's efforts in putting the best tools in our customer's hands, tools that allow them to perform any transaction from the bank in a user friendly, seamless manner; and features to help them better manage their finances," said Sofia Rodríguez-Sahagún, Head of Retail Digital Banking at BBVA Spain.
Making it easier for customers to manage their finances via their mobile device
According to the Forrester report, BBVA's best-in-class functionality includes Bconomy, which gives customers a financial health score based on their own data, and recommends personalized actions to help people improve their financial situation. BBVA Bconomy currently has 2.1 million monthly users (March data).
The report also notes that BBVA uses predictive analytics to alert customers about potential outgoing payments and offer a "safe-to-spend" balance. For example, BBVA's Movimientos Previstos (Projected Transactions) feature warns about upcoming charges, offering them the possibility to delay the payment of those that allow it. It also helps prevents account overdraft or liquidity stress situations.
Seamless processes
In addition, Forrester reports that BBVA is one of four banks that make it easy for new customers to open an account via the mobile app by using the camera to scan documents and verify identities. In 2016, BBVA launched its selfie account, which allows customers to open a fully-functional bank account in a matter of minutes, by just taking a portrait picture of themselves using their handset's camera and completing a simple data verification process
Garanti: an impressive range of features
As for Garanti, Forrester Research also cited the Turkish bank as offering excellent functionality and good user experience, as well as its "impressive" range of mobile banking capabilities. According to the report, "Garanti helps its customers self-serve conveniently: Effective appwide search helps customers find functionality and content, taking them directly to what they're looking for, while context-sensitive task-related help supports customers where they need it".