BBVA's Turkish franchise is a leader in sustainable finance in its sector and plays an important role in the country's development. In response to an invitation from the Ministry of the Environment, Urbanization and Climate Change, Garanti BBVA Vice President Ebru Dildar Edin analyzed the current status of sustainability in the world and the importance of the financial sector to support the transition toward a more sustainable economy.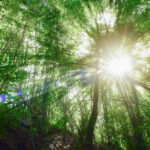 The session on Sustainable Finance from the Banks' Perspective was moderated by Sonja Gibbs, Managing Director and the Head of Sustainable Finance at the IIF. It took place at the Turkey Pavilion at the COP26 and focused on the role of the sustainable finance sector in sustainable development and the specific steps toward the development of Turkey's sustainable finance market.
In her presentation, Ebru Dildar Edin explained why banks are paying attention to climate change and how Garanti BBVA has contributed to the growth of the sustainable finance market both globally and locally with its sustainability approach. According to United Nations data, an annual investment of $5 trillion to $7 trillion dollars is needed on a global level in order to attain the Sustainable Development Goals (SDGs). "The amount of financing needed to meet the need for clean energy is estimated to be between $1.3 and $1.4 trillion per year on a global level by 2030. This means at least $2.5 trillion of financing is needed every year in developing countries," she indicated.
In this regard, the executive explained that if "public and private financial flows are reoriented toward green and sustainable efforts, we can help to mitigate the risks posed by climate change and create new jobs and sustainable economic growth. Working toward the Sustainable Development Goals, we have the opportunity to create $12 trillion of opportunities in the global market and 380 million employment opportunities by 2030," Dildar Edin estimated. "The finance sector will play a critical role in this transformation because we are now living in a world where sustainable banking, responsible investing and assets with a social impact are important."
The executive noted that Garanti BBVA was the first bank in Turkey to start sustainable finance activities. In this sense, Dildar Edin recalled that the BBVA Group has increased its commitment to sustainable investments to €200 billion. "Garanti BBVA is also working to provide higher amounts of financing by 2025. In this context we have provided over 51 billion lira in financing. We are continuing to work to lead the transformation of the business world in order to facilitate Turkey's transition to a low carbon economy and attain the Sustainable Development Goals."