Watch: How the Indian Doctors Association of Houston is the perfect medicine
The Indian Doctors Association of Houston held its annual gala on Friday, celebrating key community achievements and providing scholarships to young, aspiring doctors.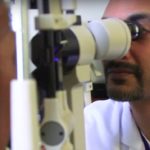 BBVA Compass, which is a supporter of the event, has donated $50,000 to the association over the past seven years, including $10,000 at this year's soiree. Those funds have gone towards a variety of places, including the aforementioned scholarships, and the Indian Doctors Charity Clinic, a free weekend clinic providing basic medical care to Houstonians who need it most.
"These are world-class doctors," said BBVA Compass Commercial Relationship Manager Eric Merchant of the free clinic. "They're taking the time out of their day, on a Saturday morning, to see patients at no cost. These doctors are truly passionate about their craft, and they're passionate about their communities."
BBVA Compass' relationship with the Indian Doctors Association began in 2010 between Merchant and IDA officials, starting out as a business relationship. It has since grown into something bigger, says Merchant.
"Over the years, these doctors that went from being clients are now considered friends," said Merchant.
The organization is a non-profit, networking forum for physicians of Indian origin to provide mentorship in academic excellence, patient care and promote health education for Houston and its communities. IDA-Houston is one of the largest local chapters of the American Association of Physicians of Indian Origin. The chapter was founded in 1981 by Dr. Jagdish Sharma as the Indian Doctors Club.