At BBVA's talent fair held in November to showcase the latest trends in business talent, Ophélie Richard, global head of Talent Acquisition at BBVA, and Nacho Villoch, from the Open Innovation area, shared their thoughts on future job opportunities and career challenges.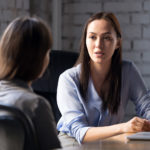 Ophélie Richard said the obsolescence of technical skills is a hallmark of our transformative era. On the other hand, "soft skills" (such as leadership and communication skills) are increasingly important. The ability to adapt to change and ongoing learning are an employee's best tools.
Ophélie explained that, in the world of data, people will be required to have a range of skills that need to be updated on an ongoing basis, such as data interpretation and analysis and transforming it into business ideas.
"We shall need people who can interpret data but also understand people using organizational behavior research," said the head of Talent Acquisition. Facing this new scenario of skills and job opportunities for a new era, BBVA is getting ready to detect talent in this ecosystem through actions such as the launch of a new careers portal to provide the key information on BBVA's culture and way of working. The design is optimized for any device to make it easier for users to view the information quickly and easily.
To detect these new skills, the BBVA Talent Acquisition team has produced a competency-based interview guide. The manual adheres to the bank's commitment to diversity and inclusion.
Another key issue in the human resources landscape is the new jobs that will emerge soon: "Everything will be about data and data use will be required. Quantitative finance, Big Data, business analytics, programmers and user experience designers, digital marketing and experience generation or job profiles tied to digital sales." Ophélie Richard also emphasized cybersecurity profiles, such as software developers and engineers, which are key to building a secure environment in which to spend our increasingly digital lives through smartphones.
Sustainability is another field that in the coming decades will require more specialists. According to Ophélie, this will generate "genuine and necessary opportunities for the world of the future."
Talent with a purpose for a new era
Nacho Villoch, from BBVA's Open Innovation area, invoked an old Chinese proverb: "The key question in the present context of change is not if a certain industry will be transformed, but when." When change happens this fast, Villoch believes a change of era is afoot. As evidence, he stated: "Just 60 days of lockdown accelerated digitalization by six years."
In this context, the career profile that is changing the work environment is what Villoch calls "JEDI:" the Spanish acronym for young (joven), entrepreneurial, digital and innovative.
As to the jobs of the future, Nacho Villoch said that, "we are going to have jobs that don't even exist yet. 85% of the next decade's jobs are yet to be invented." He stressed the importance of soft skills, especially C4: cooperation, creativity, communication and critical thinking. As a paradigm, Villoch pointed to BBVA's community of 10,000 "ninjas:" employees who choose what they want to be trained in and share their training through a gamified environment. To wrap up, Villoch advised tomorrow's employees to align their personal purpose with what the world requires at the given time. In the immediate future, this will be the achievement of the Sustainable Development Goals of the United Nations 2030 Agenda.