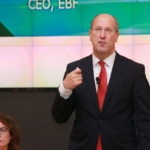 Creating a national financial education strategy and then making it replicable in the rest of Europe has been a difficult task, explained Wim Mijs during his presentation at Edufin Summit 2017, the global summit held at BBVA's Center for Education and Financial Capability. Using a friendly and educational tone, Mijs recalled how he first started working in this field: "In 2007 I was CEO of the Dutch Banking Association  and the finance minister invited me to participate in a project called Money Wise Platform – a financial education platform in the Netherlands."
This occurred during a critical time for the global economy. "I realized that at a time when the situation was getting worse, people should do financial planning." Mijs also recognized that technology could serve as a tool to help in this task: "Financial services were becoming digital, which made it easier for people to acquire basic knowledge." Mijs did not hesitate to accept the invitation to become part of an ecosystem to promote financial education in the Netherlands, including the Ministry of Finance and institutions from the sector. There was a lot to do and a strategy was needed to reach all segments of the population: "Financial education should be everywhere.  We need to focus on it in primary and secondary schools, and among adults and professionals," Mijs says.
Step by step
It was an ambitious project, but a strategy was needed to deal with the challenges. The team knew that a public sector agency needed to be created, with public-private partnerships, and that a group of experts would be needed to steer the ship: "Special people to lead, professionals," he says. Doing everything at once wasn't possible, so they decided to go step by step: "In 2008, we decided to focus on primary schools, with a game that could be played in class," recalls Mijs. "We didn't want to design a curriculum. Who are we to do that?" Their idea took the form of a questionnaire on financial education that was completed by playing a game, but that wasn't all. "We invited bankers to go to classrooms and explain what banks are like and how they work." The focus was what made these classes special. "They were supposed to tell entertaining stories to the children to share the most interesting knowledge with them." Parents also got involved, by answering the questions the children asked at home, motivated by the classes and the game. The initiative's success demonstrated that the Money Wise platform was on the right track.
Following this classroom experience, the next step was "to have a multi-channel approach." To do so, they invited actors from all sectors related to financial education: corporate executives, bankers, financial planners, members of related non-governmental organizations, scholars, consumer organizations, etc. Today, Money Wise reaches children and adults through different activities carried out by participating institutions. "An ecosystem of professionals has been created which combines idealism with very clear goals. We have a national strategy." Thanks to the participation of these experts, the platform has become more professional in order to accomplish the goals. "We now have 5,000 participating schools. It's a huge success," Wim Mijs says with pride. "This great experience we're now also sharing at the European level and building on it."
The great financial education game
European Money Week, organized by the European Banking Federation, has managed to extend this spirit of cooperation and celebration of financial education through projects and games in more than 20 European countries. "My idea was to create a group of European experts, organize a week to concentrate all the efforts and see if we could learn from each other," recalls Mijs. The new edition of this great initiative will be held March 12 – 18, 2018, with an important new addition: the contest, The European Money Quiz.
The goals of this European competition are ambitious – it hopes to get thousands of 13 to 15 year-olds from 30 different countries to participate. The competition entails correctly answering an online questionnaire of 15 questions as quickly as possible. It takes place in two stages. The first will be held on a national scale with representatives from participating schools competing against each other on a digital platform. In the second, two student finalists from each country will participate in a European final competition on May 8 in Brussels.
This European competition represents a huge milestone, but Wim Mijs continues looking toward the future and setting new goals. "We are going to try to go farther. The European Commission should act as a facilitator of this highly necessary movement." And he adds with a smile: "I am enjoying this because I think we are making a difference."
To stay up to date, the Center for Education and Financial Capabilities has all relevant information on financial education in the world.