For the tenth year in a row, AFP and BBVA teamed up for AFP Aware Community Service Day. Nearly 70 treasury and finance professionals arrived at AFP 2019 in December, to give back to the community of Boston.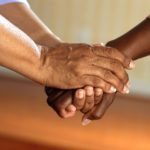 "It is inspiring to be a part of this effort and to have a real impact on the community," said Nanette Crocker, executive director and USA corporate Treasury Management sales manager for BBVA.
Bob Whitaker, CTP, senior vice president, corporate finance for DHL and chairman of AFP's Board of  Directors, agreed. "I love that we get the opportunity each year at conference to give back to the local community that hosts the event," he said.
For this year's offsite project, AFP 2019 attendees assisted the City of Boston's Love Your Block program,which offers mini-grants and neighborhood cleanups for beautification projects. Boston's Office of Civic Engagement started the project in 2015, which urges Bostonians to revitalize their neighborhoods one block at a time.
Volunteers traveled to a local elementary school, where they painted benches, built learning gardens/flower beds, built bookshelves, organized storage rooms, cleaned up the school grounds, and painted walls throughout the school. 36 volunteers participated in the offsite event.
"I'm always amazed at how much can be done in a short amount of time with a group of dedicated individuals," said former AFP Chairman Jeff Johnson, who participated in the Love Your Block event. "AFP members joining together to improve the communities we are in moves me and motivates me. In the end, behind the numbers we work with every day, are people and this allows us to help people in a very tangible way."
For this year's onsite project, attendees worked with Pine Street Inn, which has worked for the past 50 years to move people out of homelessness as quickly as possible. Services provided include shelter, outreach, facilitating moves to permanent housing, and workforce development.
Volunteers assembled 300 hygiene kits and 2,000 utensil packs for homeless individuals in the local area. The hygiene kits contain personal toiletry items, as well as winter socks, lip balm and hand warmers, while the utensil packs are an important part of meal service. 31 attendees participated in the onsite event.
Last but not least, AFP conference attendees also gathered for Paintfest, which took place in the Exhibit Hall throughout the event. Attendees painted pre-drawn murals provided by the Foundation for Hospital Art, which are donated to healthcare facilities across the country. The Foundation for Hospital Art's mission is to give comfort and hope to those who suffer in hospitals by providing them with murals at no cost in order to soften the experience for patients, families, and hospital staff.
"When attendees volunteer for AFP Aware, they're giving back to a community that needs physical and emotional support," said Marcia Harris, senior treasury and account manager for the American Institute of Physics and the AFP Aware ambassador. "Whether our task is small or large, we always seem to accomplish more than what is expected."Harris added that volunteering every year gives her a sense of thankfulness to be part of AFP. "It really makes me understand that as an organization, people come from all different areas and they want to help others," she said. "And that makes me feel good, because I'm a member of AFP."