AI solution Change wins the world's largest fintech competition - BBVA Open Talent 2017
An artificial inteligence startup aiming to give everyone their own virtual personal money manager  has been named as the winner of the 2017 BBVA Open Talent Competition. Israeli high-growth outfit, Change, beat off strong competition from almost a thousand entries from dozens of country around the world to secure top spot in the world's biggest fintech competition.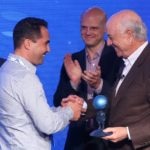 Change's winning solution, based on artificial intelligence and robo-advisory capabilities, is designed to, as they put it, give everyone their own personal financial advisor.
The solution improves people's financial lives by optimizing their bank accounts – so, for example, it allocates the right amount of money to ensure people pay their bills on time, or automating deposits into savings fund.
Change had previously won the Artificial Intelligence section of the BBVA Open Talent competition at Money 20/20 in Copenhagen.
The award was handed to Change CEO Yaniv Levi by BBVA's Group Executive Chairman, Francisco González.
Change's Levi and Assaf Priel added, "Firstly, I think that the whole Open Talent competition is an amazing process. We have been in touch with other global banks, but the engagement between BBVA and us was so deep, and so well connected that it made a huge difference."
Just prior to the award entry, BBVA's Chairman also outlined his views on the status of the banking sector at the bank's inaugural Open Summit in Madrid. Francisco González addressed a group of fintech innovators, investors, influencers and colleagues, during an interview by 11:FS co-founder Jason Bates.
Banks are not going to be banks in the future, they will be service providers, they will be platforms for financial and non-financial services"
He said he believed there were three main challenges facing the sector at the moment: negative short term interest rates, increasing post-crisis regulatory requirements and lastly technological revolution.
While the first two of these, he continued, threatened the profitability of the sector, the last one was in fact a great opportunity and one prompted by the incredible disruptive power of exponential technologies.
Mr González said: "These technologies change the demand. Digital disruption will hurt banks who are not transforming very much."
He was then asked for his view on the future of banking services, to which he replied that in the coming  years the sector will see deep changes, with a contraction from 20,000+ banks to hundreds to just dozens.
This, he said, will lead to a new league of competitors comprised of just a few banks - of which BBVA will be one of them - startups and internet giants.
"Banks are not going to be banks in the future, they will be service providers, they will be platforms for financial and non-financial services. That's our vision. We will have to have a global platform and the amount of products we offer customers will be enormous," he said.