Sport
Updated: 10 Mar 2017
Alabama Pro Day presented by BBVA Compass: Five questions with bank's Tuscaloosa president, Steve Steele
The University of Alabama and its rich gridiron history has dominated college football headlines in the past decade, winning four national championships, producing two Heisman Trophy winners, and sending 18 first round draft picks to professional football's most prominent league since 2007.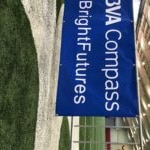 With the league's 2017 draft slated for late April, the university's annual football pro day commenced on Wednesday, with all senior and selected junior Crimson Tide players participating in drills showcasing their athleticism and skill to pro scouts.
This year, BBVA Compass brought their Bright Futures platform to Tuscaloosa, Ala., as the presenting sponsor of this year's event, showcasing the bank's 10 Bright Principles for each player to follow on their path to football stardom.
BBVA Compass Tuscaloosa City President Steve Steele sat down to answer five quick questions on the bank's involvement in the event, how it ties to the bank's client experience and the bright futures ahead of the players.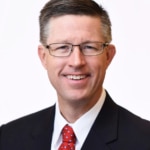 BBVA Compass Tuscaloosa President Steve Steele
Q: Why is a bank, particularly BBVA Compass, involved in the University of Alabama's Football Pro Day? 
Steve Steele: BBVA Compass has been a supporter and partner of The University of Alabama for over 20 years.  We are proud to have the opportunity to be the exclusive sponsor for Alabama's Football Pro Day, because we believe in the bright futures of these players. Our vision is to create opportunities for bright futures for everyone, including these highly-skilled athletes.
The continued growth and success of the football team, its players, and the university and the impact they have on our community and state is tremendous. We wanted to support them in any way possible. This particular event also gave us a chance to bring some of our own clients to the pro day and give them the unique, live experience of seeing some of the best up-and-coming athletes in the world.
The continued growth and success of the football team, its players, and the university and the impact they have on our community and state is tremendous
Q: What does it mean to you to work for a bank that is so involved in its communities, especially with the Crimson Tide? 
SS: BBVA Compass realizes the importance of being deeply rooted in its communities. That's one of our 10 Bright Principles – Remember Your Roots. We're firmly planted in Alabama, a place our headquarters calls home, and it is gratifying to work for an organization that has such a strong culture of giving back to its communities.
Q: This isn't the first time BBVA Compass has been involved with the university's football team. What else has the bank done? 
SS: In the past, we have rolled out commemorative Bama-branded Visa® check cards, giving University of Alabama's football fans new ways to flash their Crimson Tide. We rolled them out shortly after the football team won their most recent championships.
We also have been a supporter of "A-Day", which is the football team's intrasquad scrimmage, held at the end of their spring practices. In addition, during games, we sponsor a video that's played at the stadium highlighting Alabama players in professional football and some of their recent on-field accomplishments. We're highly involved with the school because their values align perfectly with ours.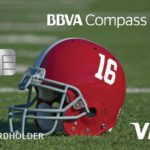 To twitter
In the past, @BBVACompass has rolled out commemorative championship Bama-branded Visa® check cards
Q: Which Alabama player were you most looking forward to watching during drills? 
SS: Junior Wide Receiver Adarius Stewart.
Q: Did you play football back in the day? 
SS: I did for a short while.  Let's hope I make a better banker than I did a defensive lineman!