October 17, 2017. It was a rainy day, one of those days that announce the arrival of autumn.  The sky was very cloudy and the rain had finally let up.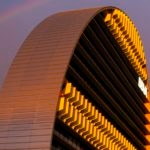 I was straightening out the Contents Area –the audiovisual company in the BBVA Group– when I turned around and looked out the window. La Vela ("The Sail," the BBVA headquarters building) had taken on a beautiful light. Everything was very dark except for the silhouette of the building. The slats that cover its facade attracted the light and it seemed that I was standing before a canvas; reality had turned into a painting. All my friends saw the same thing I did. They were amazed!
I didn´t hesitate for a second. I grabbed one of the cameras that I was putting away –a Canon 5D Mark III and a 21mm lens– and went down to the street below. I stood right at the entrance to the parking lot of the Zelandia building. It´s true that when I got there, the contrast of darkness around the building had declined somewhat and wasn´t as noticeable as before, but it was still a beautiful image.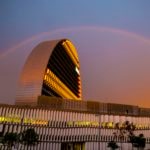 From the start, I saw that the rainbow completely surrounded La Vela. In fact, what came into my head was the image of Atlantis, the lost city protected by a force shield. With Atlantis swimming around in my head, I shot four pictures. However, I kept the second one, just because of the way it was framed.
In fact, what came into my head was the image of Atlantis, the lost city protected by a force shield"
I didn´t have much technical difficulty with the photograph, since pictures are the tools of my daily work. Still, the value of these pictures resides in a whole set of circumstances: being present at exactly the right time and place and having the camera on hand to immortalize that precious instant. There are times when you do all the preparatory work with love and care, but other times when everything is done for you, and you have to accept that gift: just like life itself!
My day-to-day work is this: expressing in an image, the ideas of my filmmaker colleagues. What I like most about this is the teamwork aspect of it. From the moment a client makes a request, there is a process that involves all areas of our audiovisual department, with each one of us contributing something of great value to the final product.
What I value most about that photograph is that people can enjoy it. What makes it different is this: that I am facing a blank page, explaining how it came to be, because of the interest it has provoked.