Anti-money laundering challenges in the financial sector
Global banks face six major challenges when tackling their anti-money laundering efforts: their international footprint, supervisory pressure, maximizing efficiency and effectiveness, leveraging technology, recognizing specialized talent and raising awareness among society about how important it is that everybody collaborates with financial institutions.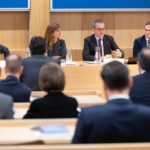 On December 14th, experts of the Spanish and European banking sector gathered at the premises of Universidad de Navarra en Madrid to take part in a workshop entitled 'Anti-Money Laundering Challenges and Trends', organized by the same university. Eduardo Arbizu, Global Head of Supervisors, Regulation & Compliance at BBVA, was invited to take part in the workshop and share his insights into the key anti-money laundering role of banks and the challenges that this role poses.
Eduardo Arbizu opened the debate with a reflection on the need to shed light on the topic, taking into account the current scenario. In his opinion, while anti-money laundering is easy to define as a task, it is becoming increasingly difficult to carry out.
"What we, the financial sector, are being asked to do is to collaborate with society to prevent money from crime from entering the financial system. In other words, to detect money coming from illicit activities, prevent it from entering the system and alert law enforcement agencies so that they can take adequate action," Arbizu explained.
BBVA's Global Head of Supervisors, Regulation & Compliance recognized that criminal activity is becoming increasingly complex by the day. And that is why, he noted, anti-money laundering is a pivotal intrinsic element of the financial activity and one of the key responsibilities of banking institutions.
"The financial system is the economy's circulatory system, and all payments flow through it. That is why it is also the most effective sector when it comes to detecting signs of money laundering. When it comes to preventing money laundering activities, we have a competitive advantage as a result of both our experience and our investments, and this ability must be a key element of our strategy," Arbizu said.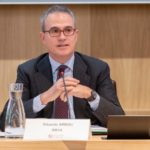 Eduardo Arbizu, Global Head of Supervisors, Regulation & Compliance at BBVA.
According to Arbizu, banks face six major challenges when tackling their anti-money laundering duties.
The first of these is their international footprint, since "anti-money laundering regulations are still markedly local," Arbizu said. "Under this scenario, banks have to make a decision whether to just observe each country's regulations or - as BBVA does - develop a global anti-money laundering vision. We must establish a set of minimum, uniform standards in every country in which we operate, to ensure our assessment of money laundering risk is global, "he explained.
Supervisory pressure is the second of these challenges. Supervisors are focusing more and more on banks' activities in this area and consequently expanding their action programs. Despite this being a positive trend, he pointed out that sometimes excessive pressure can discourage some activities that entail higher money laundering risks. This phenomenon, also known as derisking, can also have undesired side effects. For example, refraining from offering correspondent banking services in developing countries may have a negative impact on local businesses and groups, and, ultimately, on these countries' economies.
Another challenge is the maximizing the effectiveness and the efficiency of institutions. As Arbizu indicated, "regulatory pressure and the efforts by banks themselves are causing anti-money laundering spending to grow exponentially, in a way that is not sustainable. We must explore solutions, such as collaboration between institutions, that make us more effective."
In this regard, he noted the fourth major challenge that financial institutions are facing: the technological challenge. "We must leverage of technology, especially artificial intelligence and 'big data', in our anti-money laundering efforts. There is a long way to go; there are still legal hurdles we need to overcome, but, undoubtedly, we have to rely on technological solutions that help us improve," he said.
Also, Arbizu spoke about the importance of recognizing talent. "We need to train highly specialized, capable and skilled individuals in this sector, while recognizing and rewarding their skills. In short, we must attract talent to the field of anti-money laundering."
Finally, he noted the challenge to raise awareness among society about the importance of collaborating with financial institutions: "Anti-money laundering is a challenge that must be addressed by society as a whole. That is why training and awareness raising effort must encompass all employees, customers and authorities." Arbizu also emphasized the importance of awareness-raising campaigns aimed at ensuring that society at large understands the purpose and scope of anti-money laundering efforts, so that customers can better understand banks when they request information about their operations.