Art Basel in Switzerland, the world's most important contemporary art fair
With the cold air and cloudy sky, spring did not appear to be embracing the guests at the world's most important art fair held every year in Basel (Switzerland). This small city, Basel, is characterised by its location on the northern frontier of Switzerland, bordering with France and Germany and every spring it makes itself ready for the artistic commotion implied when hosting the year's most important contemporary and modern art event: Art Basel.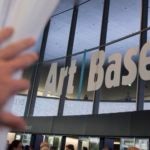 But what is art? According to the Oxford Dictionary of English, art is "The expression or application of human creative skill and imagination, typically in a visual form such as painting or sculpture, producing works to be appreciated primarily for their beauty or emotional power". At Art Basel, art is the 141,000 sq. m. plus of show arena in which almost 300 galleries exhibit works by over 1,500 artists. This circuit becomes a sensorial experience to discover painting, sculpture, photography, print, video and multimedia works that are viewed by over 98,000 visitors each year. Given the importance of this event in the art world, BBVA Global Wealth in Switzerland invited a number of exclusive clients to a VIP tour of this spectacular show. The guests not only had access to the almost 4,000 works of art, but they also took a private tour of the fair with an expert guide in modern art and they were able to meet some of the participant artists in person.
"Art Basel is quite the luxury art event, which every year brings together the best artists, great collectors and art lovers. Hence we think that offering a VIP tour of this experience for the senses adds great value to the comprehensive offering we extend to our Clients", explains Sergio Pedrosa, Private Banking Director at BBVA Global Wealth, about how the idea of inviting exclusive Clients from around the world to this annual contemporary art event arose.
BBVA Global Wealth organises visits to exclusive events that take place every year in Switzerland. Art Basel is one of them, but others include the White Turf competition, a horse race held on the frozen lake of St. Moritz and the Car Racing event with Porsche, in which the guests drive high-performance cars advised by the most experienced experts, thus completing the calendar of non-financial experiences organised by BBVA Global Wealth in Switzerland.